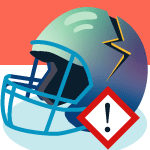 Over the past few years, there has been increased attention focused on football-related concussions and other head injuries, both at professional and non-professional levels. There are growing fears that football players are at greater risk for developing chronic traumatic encephalopathy (CTE) as well as other neurodegenerative diseases due to sustained concussive and subconcussive hits over the course of their careers.
Boston University's Chronic Traumatic Encephalopathy Center describes CTE as "a progressive degenerative [brain] disease … found in people with a history of repetitive brain trauma (often athletes), including symptomatic concussions as well as asymptomatic subconcussive hits to the head that do not cause symptoms." Common symptoms of CTE include memory loss, confusion, impaired judgment, impulse control problems, aggression, depression, suicidality, parkinsonism, and eventually progressive dementia.
As former players age, and the long-term effects of playing football become more evident, there has been a growing number of lawsuits initiated against athletic organizations and helmet manufacturers regarding CTE, concussions, and other head injuries.
CTE and the National Football League (NFL)
In 2012, former NFL players generally alleged as part of a federal lawsuit that the NFL failed to warn and protect players "from the long-term health problems associated with concussions" and that defendants "allegedly concealed and misrepresented the connection between concussions and long-term chronic brain injury."
In 2015, the league settled with the players and agreed to a settlement that would pay an average of USD 190,000 to players who experience Alzheimer's disease or moderate dementia, and between USD 1 million and USD 5 million for players diagnosed with Parkinson's or Lou Gehrig's disease.
It is estimated that this settlement could cost the NFL USD 1 billion over the long term, but former players are already beginning to get frustrated by the league's slow payment of settlement awards.
And the NFL isn't alone. The National Collegiate Athletic Association (NCAA) and helmet manufacturers have also reportedly been involved in head injury-related lawsuits.
What does this mean for liability insurance?
Because some evidence suggests that concussions and other high-impact events in children and young adults could later develop into more serious brain injuries, the Arium team considers both professional and amateur sports when estimating the potential liability risk.
Therefore, we've incorporated schools, colleges, universities, sports organizations, football clubs, sports promoters, and organizers of leagues (both professional and amateur) in our liability event footprint. This footprint also includes helmet retailers, wholesalers, and manufacturers, as well as certain medical services—as the latter could be held responsible for misdiagnosing and discharging injured players.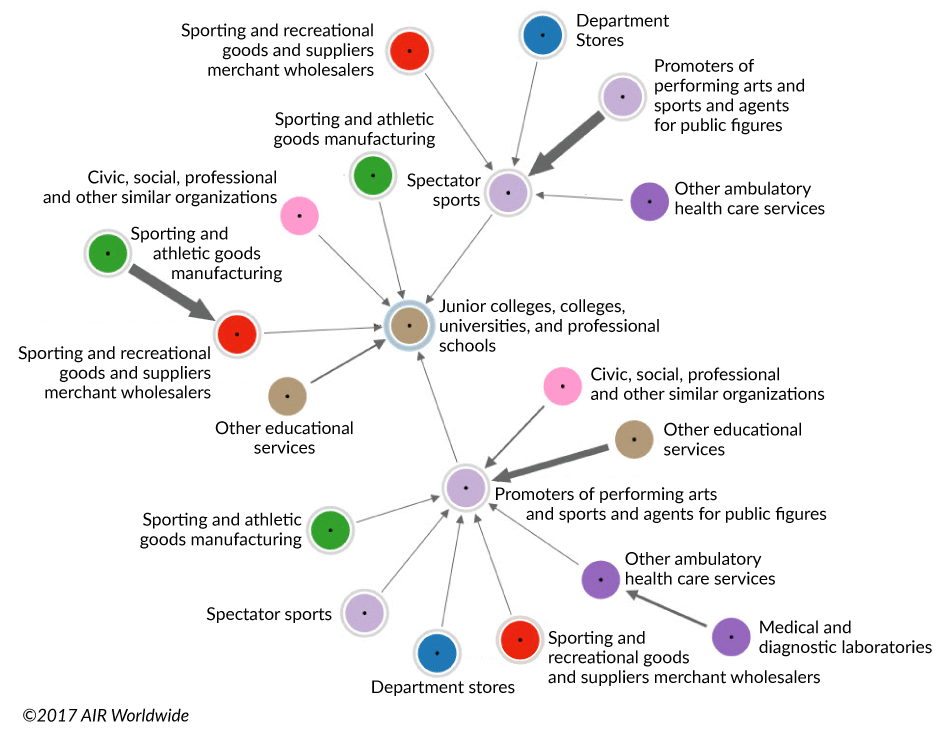 Important Factors for Quantifying Head Injury Risk
Potential drivers of losses related to football head injuries may include:
The number of current and former players in the NFL, collegiate, high school, and other football programs
The number of organizations promoting and supporting the sport in the U.S.
Injury trends in NFL, collegiate, and other recreational leagues
Participation trends for each group over time
Concussion protocols used: Stricter concussion monitoring may help reduce the frequency and severity of head injuries
The changing nature of the sport: The size of football players has increased over time, and that has likely increased the number and severity of football-related head injuries
Length of football-playing career: One recent study found that the length of a player's career could impact the severity of brain damage
Other factors that may affect the size of the losses include:
The potential for punitive damages in cases where protective measures were not taken or when risks of concussion may have been known but not disclosed to players
The potential for loss of earnings due to declining cognitive abilities of players over time
The type of brain disease contracted—treatment costs for different diseases vary significantly
It can take years to develop the symptoms of neurodegenerative diseases, so a loss related to head injuries during football-playing years can have a long latency period. These types of injuries often show up long after a player has retired. As a result, many historical policy years have the potential to produce losses above and beyond current loss reserve levels.
What does Arium do with this information?
Once we have estimated the total (economic and non-economic) football-related head injury losses and have an idea of the spread of losses across industries and insurance lines of business, Arium loss assessments can help (re)insurers estimate the total gross and net (of reinsurance) insurance losses for a specific portfolio.
Data for an insurer's portfolio can be filtered to include only policies for insureds within the event footprint. Based on the footprint, the total loss amount, and the loss distribution across industries and lines of business, Arium can then run thousands of simulations to determine how such losses may impact the specific portfolio.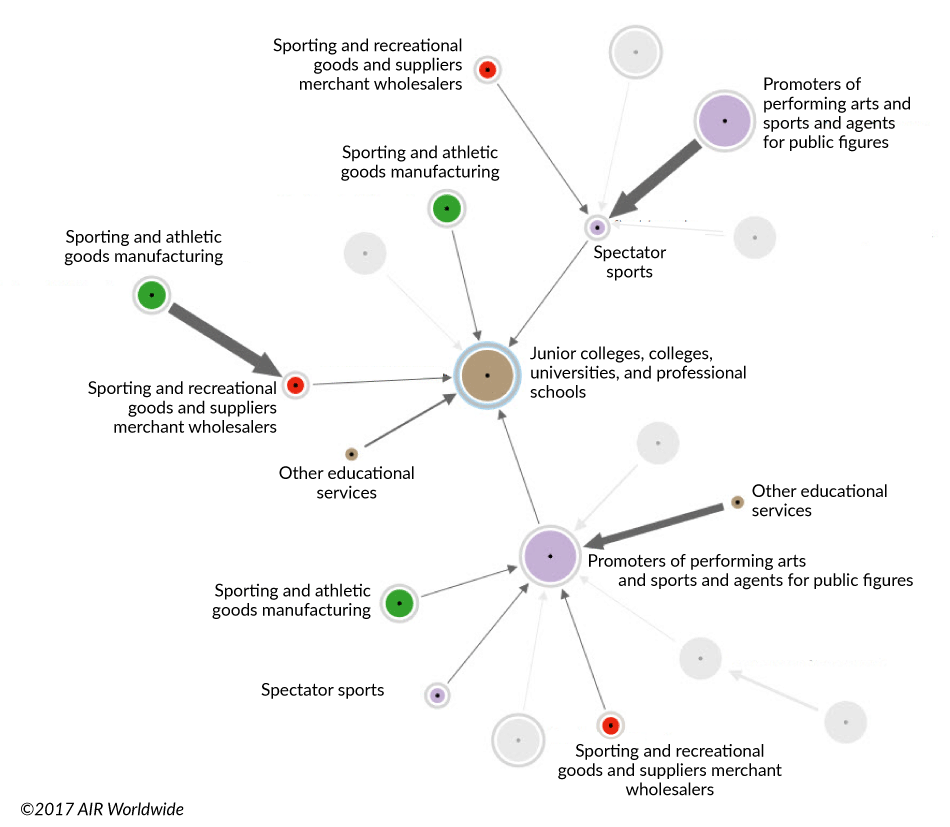 These simulations provide a way to develop a reasonable range of estimates for potential insurable loss outcomes on a portfolio. The output of this process can help insurers with portfolio/exposure management, reinsurance buying/pricing, stress testing for capital adequacy purposes, and with reserving for potential large liability catastrophes.
Read "Can Opioid Crisis-Related Losses Be Quantified?" to learn about the losses and liabilities facing particular drug companies in the shadow of the opioid crisis