We're incredibly excited to announce that clients who license Analyze Re, as well as AIR products Touchstone® or CATRADER®, will now be able to export loss curves (Year Event Loss Tables, or YELTs) from Touchstone and CATRADER directly into Analyze Re.
In Touchstone 5, users can simply select the YELTs within Touchstone that they they'd like to run additional analytics on, and in just a few clicks have that data transferred to Analyze Re for further analysis. This same functionality is also now possible in CATRADER 19.0, enabling loss curve data of a single program/treaty/layer to be transferred from CATRADER directly into Analyze Re.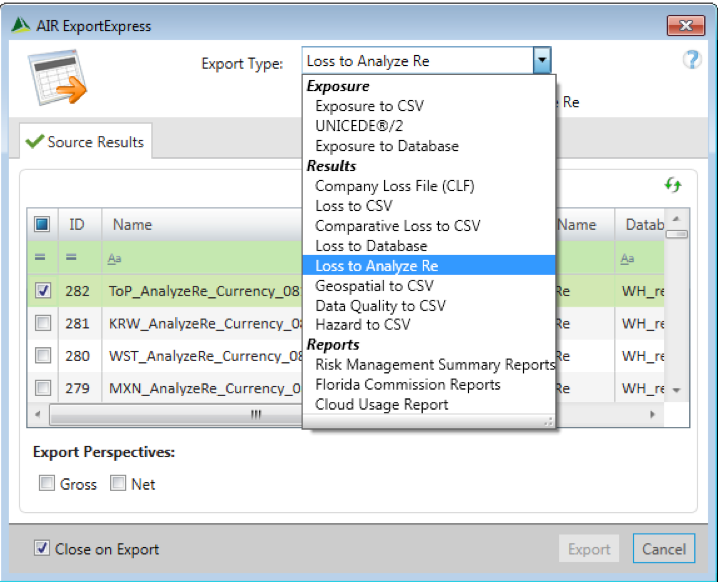 This integration connecting AIR platforms with Analyze Re is the first step toward our goal of providing clients with a more streamlined workflow to price the individual contract and to manage and optimize portfolios downstream of the catastrophe model analytics that we've always provided.
This new functionality is about making your data more accessible, and making it even easier for you to tap into Analyze Re's flexible and scalable analytics engine. Previously it would have taken some time to move your data between either Touchstone or CATRADER and Analyze Re—now you can do it in a matter of seconds. To begin taking advantage of this new feature, contact your AIR account manager.
Further enhancements to the integration are planned. One of the features we will be adding in future releases will be the ability to set a data synchronization policy that will—at the discretion of the user— automatically send loss information into Analyze Re.
Our product teams are hard at work scoping and building various other new ways to integrate these platforms, and we can't wait to share them with you in the coming months.