Late Friday evening on August 25 2017, Hurricane Harvey's Category 4 winds crossed the U.S. coastline at Rockport, Texas, ending the longest "drought" between major hurricane landfalls the U.S. has ever experienced (3,937 days). The recorded 130 mph winds and 3 meter storm surge—and the damage they caused—were certainly noteworthy, but they are not what people will remember.
Read our in-depth article to learn how an inland flood megadisaster could affect the United States
Even before Harvey came ashore, forecasters were predicting unprecedented rainfall and flooding for the region; those predictions were, unfortunately, realized. Totals were conveyed to the general public, emergency managers, and town officials not in inches, but in tens of inches. Most tropical cyclones are capable of generating precipitation at rates of several inches per hour. As they move across a region, a given area may be affected by several heavy rain bands that yield a total of perhaps ten inches—which is a lot of rain in a short time.
Prodigious Precipitation
Harvey delivered much more. What made Harvey unique was that it did not go anywhere (really) after landfall. With no large-scale steering patterns present, Harvey essentially stalled over southeastern Texas. In the 96 hours following landfall, Harvey's advance averaged just 5 mph (slower than some people walk) and did not follow a straight line—as the crow flies it moved at half that speed.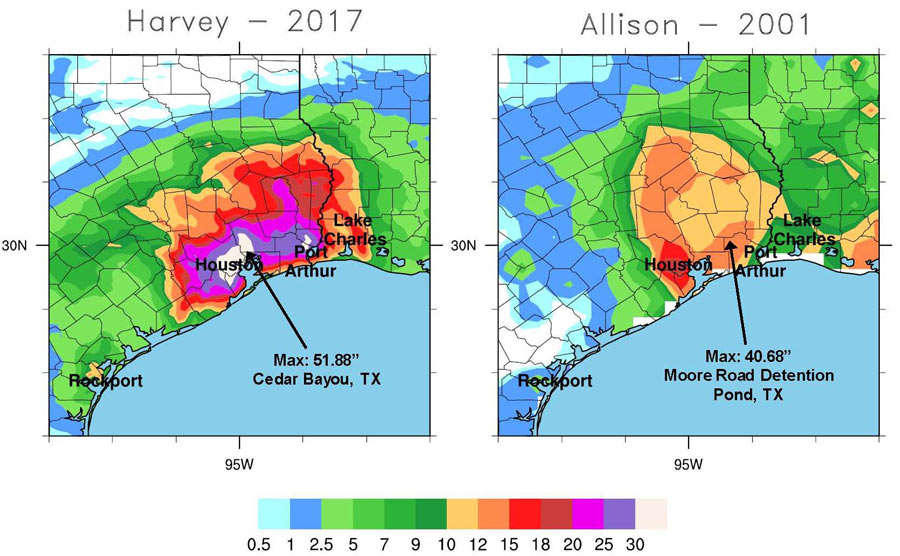 More than 50 inches of rainfall were deposited in parts of Texas, with 30–50 inches common (Figure 1). Houston was in the cross hairs; more than 24 inches fell in the first 24 hours, with a total of 43.38 inches reported at the National Weather Service Forecast Office. The highest total in the region was 51.88 inches in Cedar Bayou. Ten million people in the nation's fourth-largest city were—and many still are—under flood water, having to be rescued from rooftops. Such precipitation totals may seem unprecedented—and they are, in Texas—but not by as much as one might think.
Not Unprecedented
Many may recall Allison in 2001 (Figure 1). That storm made landfall with only tropical storm–strength winds, but it affected the same area that Harvey did—depositing 40 inches of precipitation. Before Harvey, Amelia in 1978 was the wettest tropical cyclone on record in the U.S., depositing 48 inches in west central Texas. Amelia was even weaker than Allison—barely a tropical storm for all but 12–18 hours before making landfall on the Texas Coast. The 48 inches of precipitation were deposited at Medina, TX, in a matter of 48 hours, 26 inches of which fell in a 12-hour period. One year later, Tropical Storm Claudette set the national 24-hour rainfall record, with 42 inches.
Amelia and Claudette are also the two wettest tropical cyclones on record to have occurred in Texas—until Harvey. Claudette stalled for about a 24-hour period, which was the reason for the 24-hour precipitation record. The next wettest was Hurricane Easy in 1950, which affected Florida with 45 inches of rain.
Elsewhere in the World
A bit farther to the south, Hurricane Mitch in 1998 dumped 36 inches in 24 hours in Choluteca, Honduras, causing massive mudslides and some 11,000 fatalities. For the Atlantic basin, and even the eastern Pacific, such incredibly wet storms are fortunately a rarity. The U.S. coastline along the Gulf and eastern seaboard is relatively flat, the frequency of events is relatively low, and big storms typically come in late summer and early fall, when the polar jet stream begins dipping southward once again and keeps systems moving. It is a very different story in the western Pacific, where:
Two to three times the number of systems can be spawned in a year
Storms occur year round
Mountainous terrain in coastal regions forces moisture-laden air to forfeit copious precipitation
The Asia monsoon in summer actively supplies even more moisture to landfalling systems on top of what the typhoons themselves siphon from the warm ocean waters
In just the last half century, Carla in 1967 (108 inches in a 48‑hour period in China), Fran in 1976 (110 inches across Japan in six days), Parma in 2009 (87 inches upon the Philippines in six days), and Morakot in 2009 (120 inches in four days crossing Taiwan) have demonstrated that Asia experiences very wet typhoons on a regular basis. But the all-time world record is actually in the southern Indian Ocean, where Cyclone Hyacinthe unleashed 240 inches of precipitation over a 15-day period on the island of Réunion!
Impacts of a Changing Climate
This blog perhaps would not be complete without some commentary regarding the possible impact of climate change on Harvey and future storms that will likely impact the U.S. and other parts of the world. A recent paper published by AIR noted that climate change would likely bear fewer hurricanes, but more intense ones more frequently. From a thermodynamic standpoint, warmer conditions will allow the global water cycle to accelerate so that precipitation from all types of systems is expected to increase by 7% per degree of global warming. Melting ice and thermal expansion of sea water will continue to cause sea level rise, exacerbating impacts from storm surge. From a dynamic standpoint, more intense storms, once they make landfall, will begin to spin down rapidly; their once nearly tangential flow over water at the surface will be redirected more inward because of surface friction, leading to stronger convergence of moisture that would then be manifested as higher precipitation totals.
It is not fair to ask whether climate change caused Harvey or any other particular event. Rather, climate change may have tipped the scales (and continue to tip them) so that such events will occur more frequently. It is hard to know if the tortuously slow speed that stranded Hurricane Harvey is also something that will occur more frequently, although as the pole-to-equator temperature gradient weakens with climate change, steering winds will likely become weaker so storms will move more slowly and impact the same region with increased amounts of precipitation and stronger winds for a longer period of time.