Understanding how climate change affects the severity of extreme weather phenomena is something we care deeply about at AIR, as it is part of our mission to help companies make more informed decisions and, ultimately, to help make society more resilient in the face of natural disasters.
Since 1880, the amount of carbon dioxide (CO2) in the atmosphere has increased nearly 40%, global average surface air temperatures have increased by 0.85 degrees Celsius, and sea levels continue to rise. Natural and anthropogenic causes have influenced our climate on a global scale, and they will continue to do so through this century. It remains a scientific challenge, however, to quantify the impacts of climate change on short time scales and over small regions and to understand how extreme weather will be affected in terms of frequency, intensity, and other salient characteristics.
To address these challenges, we collaborated with our colleagues at Atmospheric and Environmental Research (AER) to perform an extensive review of the literature published in the last several years on how climate change will affect extreme weather phenomena. Our white paper, released today, provides guidance for the users of catastrophe models by presenting our analysis and synthesis of how and why the climate has been changing, how climate will affect perils such as hurricanes, earthquakes, floods, and wildfires, and how to interpret the uncertainties surrounding the results.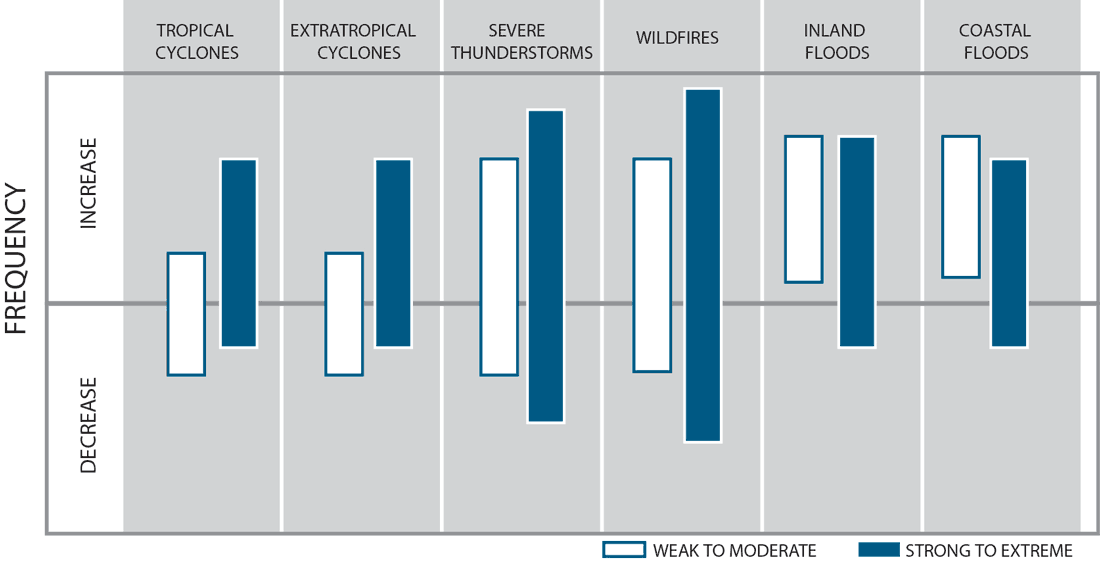 Figure 1 is a snapshot summing up several of the paper's key takeaways: we're likely to not only see an increase in the overall number of many catastrophes in the years to come, but the worst storms are going to become even more intense. Of course, we expect climate change to have a different impact across perils; for example, for tropical cyclones and extratropical cyclones, the overall number of storms we see may actually decrease, but we can expect to see a greater frequency of the most intense storms. It should be noted that there is also less uncertainty around how climate will impact the more frequent "weak-to-moderate" events compared to the less frequent "strong-to-extreme" events.
Research will, without doubt, continue, but we're pleased to release this white paper today, as we remain committed to addressing the impacts of climate change on people, property, and financial assets.
Download our new white paper: Climate Change Impacts on Extreme Weather