"Of the 32 sub-Saharan African states to have experienced internal armed conflict since 1976, nearly a third have also experienced Ebola outbreaks. If we were to look at a map of where in sub-Saharan Africa Ebola has struck since it was first identified in 1976, the virus might appear to be tracking ongoing and recent civil wars in the Democratic Republic of Congo (1976), Gabon (1996), Uganda (2000), Gabon again (2001), Congo (2002), to today's outbreak in West Africa. Civil war enables the spread of disease—especially viruses as stubborn as Ebola—by destroying physical and personal infrastructure."

— Tanisha M. Fazal, (Center for Security Studies) November 2014
In previous posts, we discussed the influence of catastrophic events on disease outbreaks, first as general events primarily in developing countries, and then related to flooding in both developed and developing countries. In this post, we will examine the effects of ongoing and historic conflicts on the capacity of countries to protect against and respond to outbreaks of disease.
One of the most devastating events for a country is warfare, which has many of the same effects as a natural disaster (damaging infrastructure, disrupting health systems, displacing populations, increasing demand on medical resources, and limiting skilled health professionals)—either through violence or emigration.
As mentioned in the quote above, the majority of countries hosting Ebola outbreaks have a recent history of devastating conflict. Liberia had 237 doctors in the country at the end of the 1980; by 2003 that number had been reduced to less than 20, and recovered to only 0.01 doctors per 1,000 people by 2008 (CIA Factbook). Nearby Sierra Leone was not much better, at 0.02 per 1,000 (by comparison, Japan had 2.297 per 1,000 as of 2012 and France had 3.227 per 1,000 as of 20151).
During the war in Bosnia and Herzegovina in 1991 and during the civil war and famine in Somalia in 1991–92, the incidence of tuberculosis increased four-fold.2
Cholera in Yemen
The current conflict in Yemen has put nearly 18.8 million of the 27 million people in the country in need of food, shelter, and/or medical care.3 Considering these conditions, an outbreak of cholera is not unexpected, but this one has been particularly aggressive, affecting more than 50,000 people in a few months and killing at least 470 as of May 29, 2017. The outbreak is growing at 2,000 cases a day and is expected to reach upwards of 150,000 cases in the next six months, according to the World Health Organization. Figure 1 graphically summarizes the recent situation in Yemen, where conditions are changing rapidly.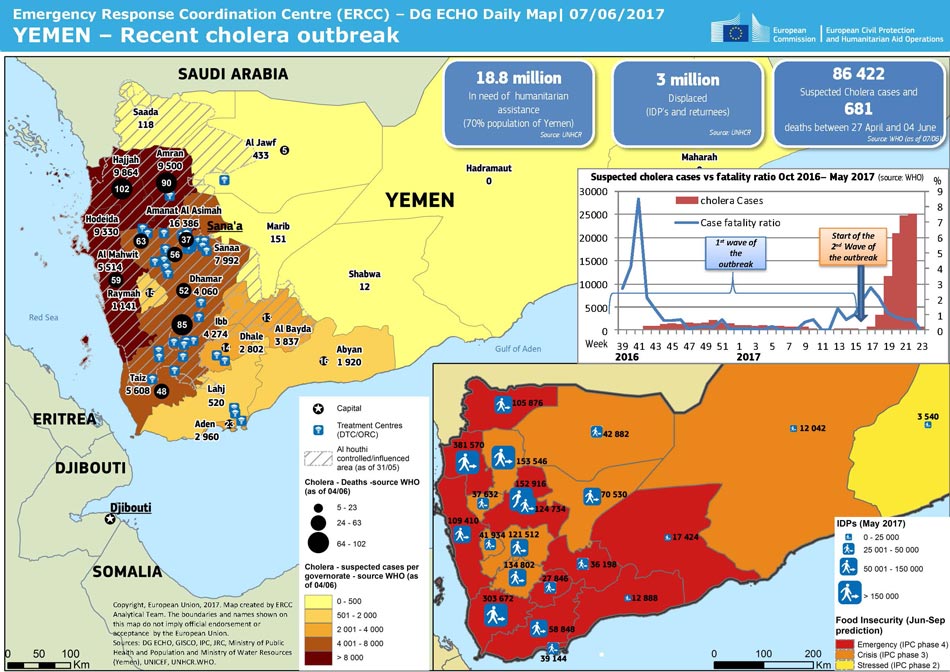 Ebola in the Democratic Republic of Congo
There has been a new outbreak of Ebola in the Democratic Republic of Congo (DRC), in the remote Bas Uélé province near the northern border with the Central African Republic (CAR). The DRC has been in a state of war or factional conflict during most of its existence, which has devastated the civilian population, infrastructure, and health systems. An additional complication is that yet another conflict, involving militias in the CAR, has sent thousands of refugees across the border into Bas Uélé close to the center of the outbreak. This exposes many more people to the disease, increases the possibility that they will carry it back across the border on their return, and complicates outbreak response efforts. Figure 2 shows recent Ebola virus outbreaks in the region, as well as the location of the Likati Health Zone.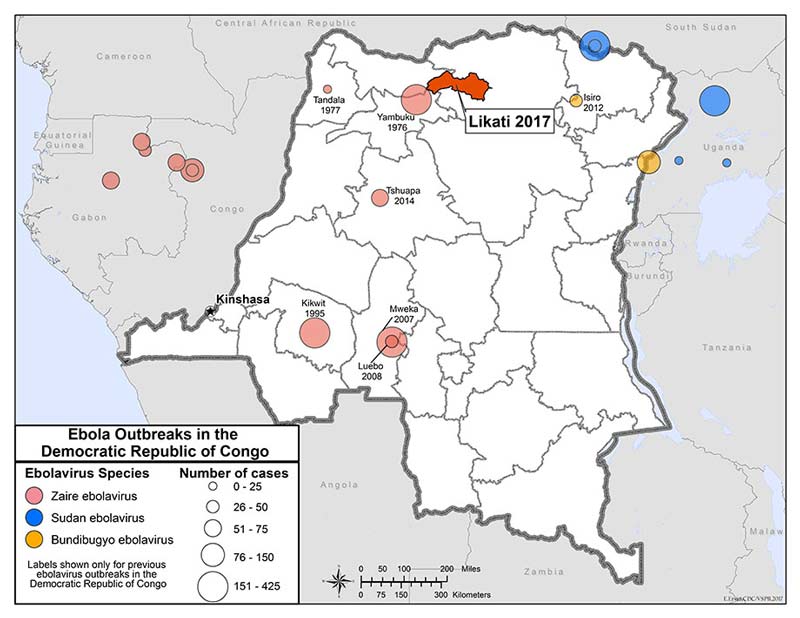 Conflict Matters
When modeling the risk of disease outbreaks, the Life and Health team at AIR quantifies the development, stability, and socioeconomic conditions as important factors in the dynamics of disease spread, in addition to proximity, travel routes, and the endemic status of a disease. These types of events can be modeled at the individual country or regional level to get a better picture of risks under changing conditions.
Get a comprehensive view of mortality and morbidity risk with AIR life and health models