Hail is a significant driver of crop damage in Canada, leading to an average CAD 200 million of losses per year to the private crop hail insurance industry in the Prairie Provinces of Alberta, Saskatchewan, and Manitoba alone. The 2016 growing season was the most recent year to exceed this average annual loss, with estimated total payouts of nearly CAD 256 million. Two other years in the last decade saw even larger industry losses; payouts in 2012 totaled CAD 280 million and 2008 saw record payouts of more than CAD 341 million. With these recent large loss years, should the Canadian crop hail industry be concerned about what 2017 will bring?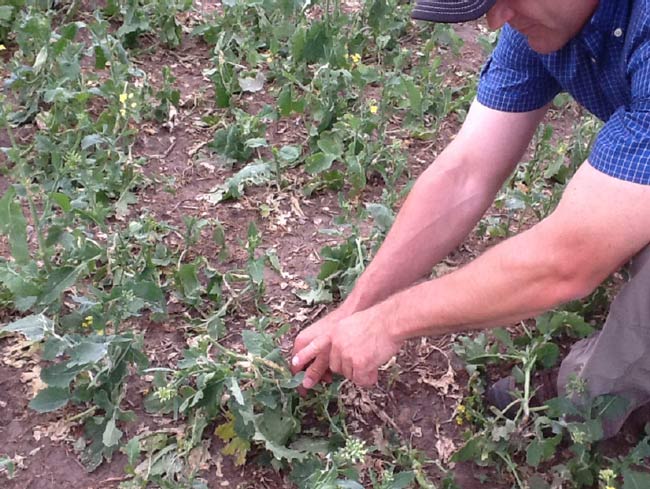 Several factors must be considered when assessing the risk of loss for the coming season. Hail season in Canada extends from June through August with variability in the timing of hailstorms within the season from year to year. The vulnerability of crops to hail damage varies by their developmental stage such that damage to crops depends on the seasonality of hailstorms. A proper risk assessment therefore relies on an understanding of when and where insured crops are grown. The policy terms in place additionally impact losses as in-field damage is translated to financial payments to producers. Despite a long record of losses within the Canadian crop hail insurance industry, this historical data has limitations as a sole basis for assessing potential future losses.
An Ever-Dynamic Landscape
Losses experienced in a single year are driven by the insured crop landscape; the hailstorms that occurred that year and caused crop damage; and insurance practices at that time. Variations in historical loss data result from changes in all of these underlying conditions. The localized nature of hailstorms leads to year-to-year variations in the timing and location of crop damage, which cannot be predicted. In addition, the mix of crops planted in western Canada has evolved as a response to both market factors and the weather. For example, soybeans have recently begun replacing canola and wheat in areas prone to wetter conditions. Because soybeans are better able to tolerate these circumstances, they are unaccounted for in earlier loss records. Finally, changes in plant genetics over time to improve resilience to several environmental perils, including hail damage, are also not reflected in many years of historical loss experience.
Ken Doleman, President and CEO of Palliser Insurance, observes that the proprietary nature of each company's historical loss data prevents the sharing of data within the industry. This leads to each individual insurer having relatively limited data available for pricing. Furthermore, Ken remarks that relying on historical loss cost data for pricing means prices change in a reactionary way in response to the occurrence of losses. If a large loss occurs in a given season, prices may increase the following season or two to compensate for large past payments to producers. Without an understanding of what large losses can look like under potential future conditions, Ken notes, using historical data as the basis for pricing may underestimate the risk, sometimes significantly. Climatic change, improved plant genetics, and evolving crop exposure are unaccounted for in historical loss cost data used for pricing.
A Clearer Picture
AIR's new Crop Hail Model for Canada leverages a 10,000-year catalog of hailstorm activity to assess the risk of crop loss due to hail. Simulation of thousands of potential hail activity scenarios produces a geographically complete view of peril risk unavailable from point locations of historical crop damage. Planted area data by crop type from 2015 informs the crop exposure susceptible to damage from the simulated storms. This stochastic view of potential hail activity provides a more robust view of risk than is available in historical loss data alone.
Ken believes adopting a forward-looking, probabilistic methodology offers advantages, one of which is that pricing is less reactive. The probabilistic view of risk provided by AIR's Crop Hail Model for Canada can help insurers rate crops and price policies proactively, rather than as a reaction to historical loss experience, and help them price risk more effectively. Assessments of risk between geographic regions can also help insurers choose areas in which to expand or reduce their exposure. Basing the model on actual crop exposure and recent policy conditions ensures risk analyses capture current market conditions.
Read Canada Crop Hail Damage: What Can We Learn From 2016?