In 2013, avian influenza (H7N9) was first diagnosed in humans. Since then there have been 1,258 cases of H7N9 among humans, mostly in East Asia. Influenza A (H5) is another subtype of avian influenza that is spreading in different countries, and there have been 856 cases of—and 452 deaths from—the H5N1 subtype alone since 2003.
The avian influenza virus can be highly pathogenic (able to cause disease). While it does not exhibit symptoms in poultry, it can cause severe disease and mortality among humans. Avian influenza in humans is primarily acquired through direct contact with infected animals or contaminated environments, but is not transmitted efficiently between people.
Preparedness
Last month, the first reports of the gene sequencing of H7N9 came out; this new mutation in the hemagglutinin gene made the virus highly pathogenic among poultry. Although there is no evidence on community transmission of H7N9 among humans, public health officials are monitoring and observing cases closely to prevent severe public health impacts.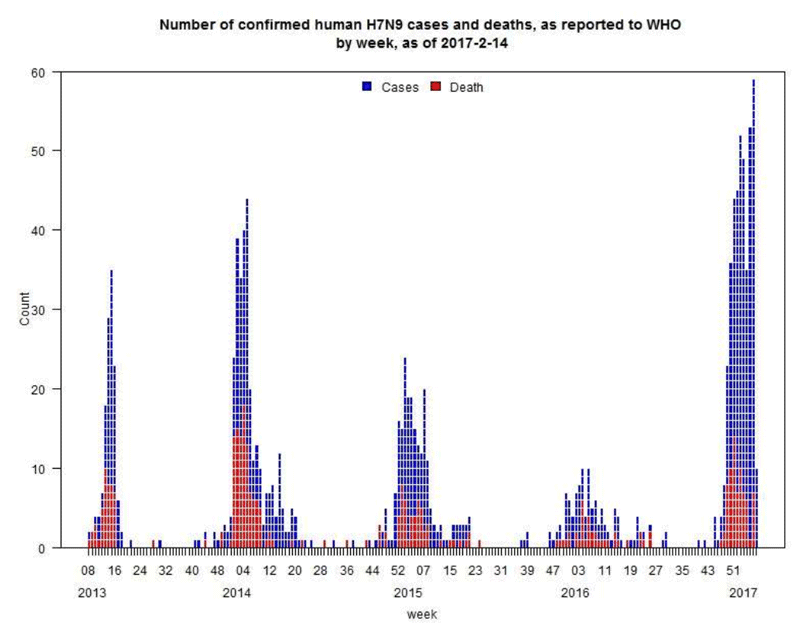 Outbreaks with low chance of causing disease transmission among humans—like this one—can be considered dry runs to improve preparation for the next major outbreak of a deadly pathogen. Preparedness programs could be developed to include educational campaigns and/or complex multi-dimensional preparedness scenarios.  Imagine if we had had preparedness plans available for the 2014 Ebola outbreak or the 2015 Zika outbreak before they happened. There could have been a significant reduction in the number of cases, deaths, and complications associated with these diseases.
Opportunity
One solution that may provide meaningful information to aid preparations for such events is modeling. Mathematical models of infectious disease transmission, dynamics, and impacts provide us with a wide range of feasible scenarios based on historical and probable outbreak events. Models can be used to estimate the severity of outbreaks along with the effectiveness of intervention plans based on the timing and availability of resources. Such models can also support the development of optimized intervention plans and resource allocation based on the real world constraints.
Although active surveillance and epidemiological investigations to limit the spread of avian influenza play the crucial role preventing the spread of infectious diseases, the current avian influenza outbreak can be considered a chance to prepare for the next influenza pandemic. Our public health experts and officials can turn threat into opportunity.