Fierce extratropical cyclones (ETCs) can devastate vast areas of forest in Europe, severely damaging or felling millions of trees within hours, and potentially cause insured losses well in excess of EUR 1 billion. Trees suffering structural damage from weather events are more susceptible to insect infestation and disease; mass felling results in sharp spikes in available timber that can cause dramatic price drops affecting both the local economy and international trade. In addition, forest damage can cause long-term distress to soil and water ecology, carbon sequestration, and biodiversity, among other economic and environmental impacts.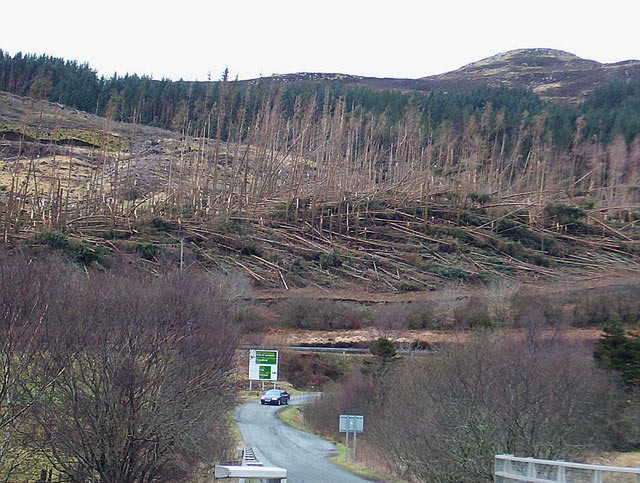 Across Europe, forests cover about 160 million hectares—approximately 35% of total land area. The region outputs a quarter of the world's industrial forestry products; the forestry sector is vital to many economies, especially those of Nordic countries. In Sweden and Finland, for example, forests cover as much as 70% of the land area, and export of forestry products account for more than 10% of total exports and approximately 5% of gross domestic product.
The largest amount of recorded forestry damage in the Nordic region was in January 2005, when Winter Storm Erwin (named Gudrun by the Norwegian Meteorological Institute) damaged an astounding 250 million trees, or 160,000 hectares, in two days. The roughly 75 million cubic meters of damaged timber is nearly equal to the entire annual harvest of Sweden, and economic losses from forest damage were estimated at EUR 1.9 billion in 2005 currency.
Changing Pattern
While the overall annual frequency of ETCs may actually decrease in a warming climate, the intensity of the most severe storms may rise. Furthermore, the typical path of these storms over Europe may trend northward, which has important implications for the distribution of insured risk in Europe, including that associated with forestry.
A warming climate may also mean more precipitation and longer periods of unfrozen soil, which can make trees more susceptible to uprooting. Simulations have shown that a rise in temperature of 4°C can decrease the duration of soil frost in southern Finland from four to five months per year to two to three months, and this longer unfrozen period is expected to correspond to some of the windiest months of the year. Combining these climate implications with a growing and aging forest stock, there is a clear potential for increased forestry losses in Europe in the future.
Many private forest owners in Europe decline insurance in countries where it is available because they do not rely on their forests as a main source of income, and because public assistance after a storm—to compensate for incurred losses or to assist with cleanup and replanting—is often available. In Nordic countries , however, forestry insurance has been in existence for several decades and is much better embedded into the risk management practices of forest owners. Currently in Europe, only in Norway, Sweden, and Finland is storm insurance for forestry both readily available and commonly purchased. A number of studies have concluded that the expansion of private insurance is of prime importance to sustainable forest management to prevent deforestation and the release of carbon dioxide into the atmosphere, and to protect forest owners and governments against increasing storm losses.
Translating Wind Speeds into Insured Losses
AIR's comprehensive framework for modeling forestry damage leverages both state-of-the-art numerical weather prediction analysis to determine the frequency and severity of potential windstorm events and sophisticated tree damage functions that take into account the complex and interdependent factors that affect tree vulnerability.
During a windstorm, there are two main damage mechanisms that can cause tree failure—uprooting and stem breakage. The stability of the tree depends on the resistance of the root and stem to the applied wind and gravity forces. In general, a forest's susceptibility to storm damage is affected by a complex relationship between wind climate, individual tree and stand characteristics, soil and site conditions, and damage mitigation and forest management practices.
To help companies better manage their risk, the updated AIR Extratropical Cyclone Model for Europe, anticipated for release in 2018, will include support for forestry modeling that considers local tree type composition throughout Europe.