Autumn is a season of excitement and change: We enjoy seeing the leaves changing colors, feeling the crisp fall air, and preparing for the festive holiday season. Another prominent, and less enjoyable, cold-weather constant is influenza (commonly known as the flu).
Influenza is a highly contagious, viral respiratory infection commonly transmitted through coughing, sneezing, or shaking hands. Since the flu virus can be easily spread, vaccination—which prevents the virus from spreading—is the most effective way to protect everyone from infection.
Children, the elderly, pregnant women, and those with compromised immune systems have a heightened risk of flu infection. Flu complications could even be life-threatening for children and the elderly, who comprise 85% of flu-related deaths every year. While some of those infected every year will suffer from loss of life, many more will require hospitalization or time away from work. The Center for Disease Control and Prevention (CDC) estimates that between 9.2 and 35.6 million people are infected with influenza each year in the U.S., 140,000–710,000 of whom are hospitalized. The annual economic loss associated with the flu is approximately USD 27 billion, primarily from direct medical expenses and lost earnings.
What makes the flu virus troublesome is its ability to change rapidly and regularly—referred to as antigenic shift and antigenic drift, respectively. An antigenic shift is a major change of the virus, which is rare. In contrast, antigenic drifts are marginal changes over time due to mutations during virus replication. To account for these mutations, researchers must update the flu vaccine every year, which means that people must get vaccinated every year to stay protected.
The AIR Pandemic Model explicitly accounts for mitigation measures such as vaccines when modeling the spread of infectious disease. It models pandemic initiation and spread across the entire globe and captures morbidity, mortality, and insurance losses by sex and age cohort. The AIR model provides feasible scenarios of vaccine distribution to enhance decision making around the timing and allocation of vaccines during seasonal and pandemic influenza periods. Figure 1 is an example of influenza epidemic simulation results, showing the role of vaccine distribution in decelerating the dynamic of disease spread and dramatically decreasing the number of cases (in this simulation, the peak number of cases is reduced by approximately 50%). Increased vaccinations interrupt the virus' transmission pathways, as there are fewer individuals exposed to the circulating pathogen.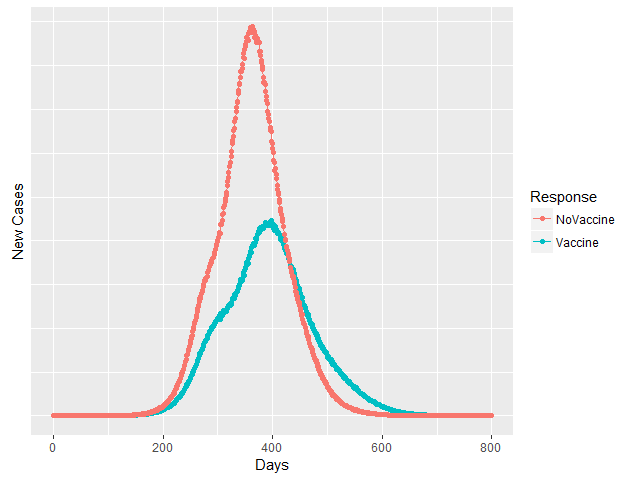 Every year, experts from the public heath, epidemiology, immunology, and pharmaceutical disciplines examine activity in the Southern Hemisphere to determine which virus strains should be included in that year's vaccine to prevent a potential pandemic. This year, the flu vaccine contains both H1N1, which has been updated to better match the circulating virus, and H3N2, which infected twice as many people in the Southern Hemisphere this year compared to last year.
The CDC recently began recommending only the injectable flu vaccine, as the nasal spray has not proven as effective in recent years. Children six months through eight years will require two doses of the injection, spaced at least 28 days apart. For children younger than six months, there is no vaccine available, and those with compromised immune systems cannot receive the vaccine due to the fact their bodies cannot develop antibodies to fight the virus. The best way to protect these highly vulnerable groups is to encourage people around them to get vaccinated— commonly known as "community immunity" or "herd immunity."
Manufacturers projected they will provide between 151–166 million doses in the U.S. this year. People can get vaccinated at doctors' offices, clinics, health departments, pharmacies, and college health centers. Because it takes about two weeks for antibodies to develop in the body of the vaccinated individual, every eligible person (most of the population) should get a flu vaccine as early in the flu season as possible. The flu vaccine is a safe, accessible, and highly effective preventive measure against flu outbreak and pandemic.

Watch pandemic flu spread in our video "The Potential Impact of Global Flu Pandemic"