In addition to tragic loss of life, property, and livelihood, recent and ongoing wildfires in California's wine country are affecting local vegetation, including vineyards. As with most things botanical, interactions between fire and woody plants—including Vitis vinifera, the source of nearly all wine grapes in use today—are varied, and interesting. How close fire comes to a vineyard, and how long it stays, affect the type and extent of ensuing damage.
Where there's smoke...
Vineyards downwind of fire can sustain smoke damage. Pollutants in smoke from burning vegetation can affect grape leaves, but usually symptoms are modest and short-lived, with full physiological recovery in a matter of hours. Smoke taint in wine is a different, sometimes costly matter. It results from permeation of smoke into grapes (perhaps indirectly via leaves), producing juice or wine that is unpalatable, and therefore unmarketable. Greatest tainting occurs from smoke during fruit ripening. Scientists are working out the underlying biochemistry, which is interesting in its own right. Revenue loss to smoke taint in major wine producing regions can exceed USD 100 million in bad years.
If the fire gets close...
Fire within a vineyard can damage plants through radiant heat or direct combustion in flames. A good outcome can be modest leaf damage and superficially burnt bark on vines. These need not have long-lasting effects or greatly reduce yield of the current crop. In many cases, ground cover between vines will burn quickly, with limited damage to the vines themselves.
A more serious outcome, depending on time of the growing season, is destruction of flower buds, flowers, or fruits. This can mean total loss of the current crop. Large-scale leaf loss can also mean significant, or near total, yield loss, depending on time of season.
When things get too hot...
The worst outcome for a vine is death. Very hot or slowly moving fire can kill the cambium layer located under a vine's bark, even without visible combustion. Cambium is necessary for growth of the vine's vascular tissue; without it, the plant dies. Because cambium is under bark, its death may not immediately be obvious. A complicated case arises when fire kills cambium on one side of the vine, but not the other.
Dead vines need replacement. New vines require 3-4 years for their first major grape crop, and often longer for full productivity. Even without mortality, yield of damaged vines can remain subpar for 2-3 years.
Fire damage varies greatly across many vineyards, with some vines killed, others sustaining superficially burnt bark or modest leaf and fruit loss, and still others experiencing nothing beyond smoke, though that too can be costly in the end. If fire kills most or all the vines in a section of a vineyard, the entire section may require replanting. With less extensive mortality, replanting can take place one-by-one between surviving vines.
Insurance helps...
In the U.S., crop insurance regulated by the federal government's Risk Management Agency is readily available to cover current-year loss of grape yield from fire and other perils (e.g., drought, disease). Vines must be at least three years old to qualify for this coverage. Insurance to replace dead vines, a more costly situation, is rare.
Wildfires are still active in California's wine country, and although harvest preceded fires in most vineyards this year, in others, grapes are still on the vine, including a significant fraction of this years' cabernet sauvignon. That fully mature, thickly skinned cabernet sauvignon generally will escape smoke taint, according to industry experts.
Even some grapes harvested before the fires began were lost. They included grapes being stored or processed at wineries that were damaged or destroyed.
Overall, current damage to California's grape vines and their fruit ranges from minimal to catastrophic. In cases of the latter, years of waiting will be needed to regain productivity following replanting.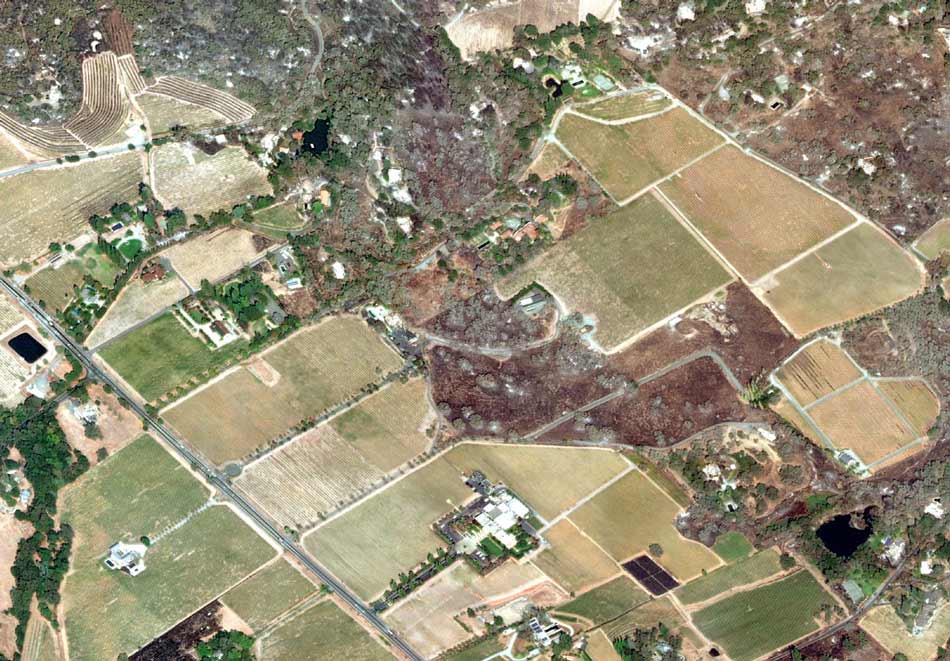 Read: How to Quantify Your Wildfire Risk