Following recent hurricanes Harvey, Irma, and Maria, we have all seen the catastrophic damage to homes, businesses, and communities. We hear less, however, about the increased risks to the health and well-being of the people living in the affected areas. Every hurricane is a public health disaster, and the significant health concerns associated with these events are not fully captured by the fatalities recorded in the days immediately after the storm.
Individuals may be exposed to chemicals or infectious disease pathogens through contaminated floodwater. In addition, people forced to relocate to shelters and confined to crowded spaces—frequently without adequate access to clean water, fresh air, or healthy food, and other basics that promote hygiene—are also at risk of contracting disease. Furthermore, major hurricanes put those with chronic conditions in danger of losing their lives due to disrupted access to medicine and routine therapies.
Contaminated Water
In a previous blog, we talked about the increased chance of food- and waterborne disease outbreaks after catastrophic events. This dangerous exposure is predominantly the result of sewage system failures, causing contaminated floodwater to mix with rainwater. Following Hurricane Katrina in 2005, Vibrio pathogens sickened two dozen people and killed six. Results of the water testing organized by the New York Times revealed an E. coli contamination four times greater than the safe level.1 Cholera is a highly pathogenic, waterborne disease that is a particular risk in the Caribbean, as the disease is endemic in the region. More than 100 people have died from cholera in Haiti in 2017. Following Irma's landfall in Haiti, there have been increased concerns about mortality and morbidity caused by cholera, although these risks can be mitigated by administering rapid diagnostic tests and the cholera vaccine (kOCV) in affected areas.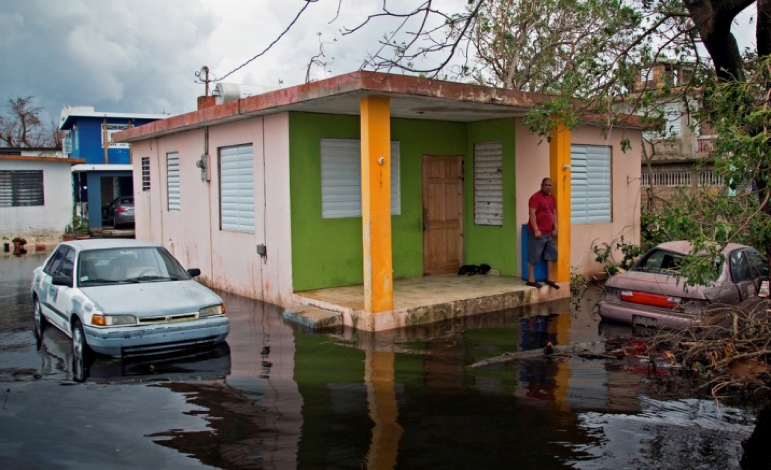 Exposure to floodwater can increase the risk of skin rashes; ear, nose, and throat problems; and conjunctivitis, but according to the World Health Organization (WHO), none of these are epidemic-prone. Neither is tetanus, but Texas health officials have recommended tetanus booster shots to protect against this disease, which is caused by suffering a deep wound that gets infected—something that has a better chance of happening when walking through standing floodwater full of debris, especially when barefoot.
Mosquitoes
Based on observations following Hurricane Katrina, there will be several competing effects on the mosquito population after Harvey and Irma. The immediate effect is a decline in population due to high winds and flash floods. Following hurricanes, however, pools of standing water become ideal breeding grounds for mosquitoes. In fact, health officials have asked residents to clear standing water from tires, buckets, and even from outdoor dog bowls. We should expect to see growth in mosquito populations and therefore an increase in mosquito-borne diseases, including Zika virus, dengue fever, West Nile virus, chikungunya virus, and malaria, in flooded areas.2 One year after Katrina, for example, cases of West Nile infections more than doubled in communities that had been in the hurricane's path.
It is still too early to predict how much of an increase we will see in the number of mosquito-borne diseases after recent hurricanes because disaster cleanup increases exposure to mosquitoes, so it wouldn't be surprising to see more cases over the next 12 months.
Airborne Pathogens
Airborne pathogens and foreign agents pose serious health risks to affected populations. Dangers can range from inhaling carbon monoxide from a portable generator running indoors to breathing in mold spores growing in flooded structures.
Flooding introduces a new ecosystem for fungal growth, which can have long-term health implications. Living or working in an affected building can have significant health impacts, including exacerbation of allergies and asthma, as well as immunological reactions.
Moreover, mold is frequently found in low-income neighborhoods that do not have access to necessary cleaning supplies. Exposure to mold was a concern in low-income neighborhoods in New Orleans after Katrina and in parts of Brooklyn after Sandy.3, 4
Chronic Conditions and Trauma
Harvey, Irma, and Maria were life-threatening for those with chronic conditions. Patients who are dependent on dialysis, oxygen, or insulin to survive, for example, are at greater risk of losing their lives following a catastrophe. Concern for those with chronic conditions is especially heightened in Puerto Rico following Maria, as the island has suffered from the destruction of many hospitals and the complete failure of its power grid. Patients therefore must rely on backup generators to receive needed treatments. Increased stress levels triggered by a traumatic event can also weaken the immune systems of affected individuals or cause cardiac arrest. Finally, mental health issues are likely to manifest during and after a hurricane, just when the resources to care for them is least available. After Harvey, social workers reported four times more patients than usual.
Hurricanes Are a Wake-Up Call About Post-Disaster Health Impacts
Hurricanes Harvey, Irma, and Maria have caused significant devastation throughout the southern U.S. and much of the Caribbean. The damage from these storms can have wide-ranging impacts that go far beyond the immediate property losses and tragic loss of life. Health impacts for affected communities are so great that the U.S. Department of Health and Human Services (HHS) has declared a public health emergency in the wake of recent hurricanes. These will, no doubt, be studied closely going forward and should serve as a wake-up call to put plans in place to mitigate these effects in the future. Long-term education plans for those living in disaster-prone areas, along with more realistic predictions and proper resource allocation to address health-related needs, could significantly decrease preventable mortalities and reduce long-lasting health impacts following a catastrophic event.
Get a comprehensive view of mortality and morbidity risk with AIR life and health models.
---
1 https://www.nytimes.com/2017/09/11/health/houston-flood-contamination.html
2 https://www.cdc.gov/zika/vector/mosquitoes-and-hurricanes.html
3 https://www.theatlantic.com/health/archive/2017/08/mold-city/538224/
4 https://www.washingtonpost.com/news/to-your-health/wp/2017/08/29/the-health-consequences-to-expect-from-hurricane-harveys-floods/?utm_term=.ba46b3e12a44