Well, AIR's first client hurricane contest has come to a close. More than 150 of you entered, and believe it or not, two of you guessed the correct values for basinwide named storm count (15), hurricane count (seven), major hurricane count (three), and U.S. landfall count (two). I'm pleased to announce that the co-winners are Joseph Rosta from Chubb and John Horton from AmRisc. Although the rules indicate that there would be a drawing in the case of a tie,  we're making a one-time exception and awarding both Joseph and John a personal weather station since they each guessed the season exactly.
AIR also runs an internal hurricane contest for our employees. Only one of our staff, David Bonanno, had a perfect entry. He refused to share his secret with me. As part of AIR's internal contest, we also try to guess the season's insured losses for the U.S. According to PCS, the losses from Hermine and Matthew total USD 2,904,110,000. The winner of the loss contest, Sarah Bobby, guessed USD 3,000,000,000 (she was also only off on the counts by one, having guessed only one U.S. landfall instead of two).
The following graph compares the errors in the AIR staff guesses to client guesses. They are quite consistent, with the median error being five in both cases. Error is defined as the sum of the errors across all four categories for which guesses were submitted.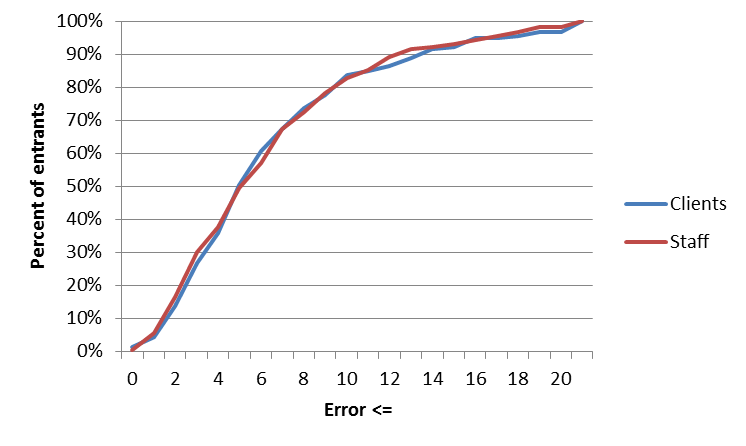 We hope you enjoyed the 2016 hurricane contest, and look forward to opening up the 2017 contest in the spring!