For anyone following the rapid increase in the frequency of earthquakes in Oklahoma attributed to the injection of oil extraction wastewater deep into the ground, the story just took a couple of interesting turns.
First, the United States Geological Survey (USGS) has re-analyzed seismic recordings and updated the official magnitude of the September 3, 2016, Pawnee earthquake from M5.6 to M5.8—now the strongest recorded tremor in Oklahoma's history—and the magnitude of the November 6, 2011, Prague earthquake from M5.6 to M5.7. There were no foreshocks of M4.0 or greater warning of the September 3 M5.8 earthquake in the weeks preceding the event.
Second, and more significantly, wastewater disposal wells have been shut down in response to the September 3 quake. The Oklahoma Corporation Commission's Oil and Gas Division (OGCD) ordered 37 wells within an area of 514 square miles around the epicenter of the quake to close within seven to 10 days. Soon after, the U.S. Environmental Protection Agency (EPA) ordered the closure of 17 wells within a 211-square-mile area of adjacent Osage County, which is contiguous with the Osage Nation Reservation and thus outside OGCD jurisdiction.
OGCD follows directives using an induced seismicity "traffic light" system for reviewing proposed disposal wells and conducting a full review of operations in designated Areas of Interest (AOIs). Based on seismicity, part of Pawnee was included as an OGCD AOI requiring additional measures in well permitting in 2015. More recently, the OGCD had been asserting its authority by requiring wastewater-well owners in parts of the state to reduce disposal volumes in an attempt to reduce the frequency of induced earthquakes. In February and March 2016, for example, injection wells in a huge swath of central and northern Oklahoma—where the greatest concentration of increased seismicity has been observed—were ordered to reduce injection volumes by 40%.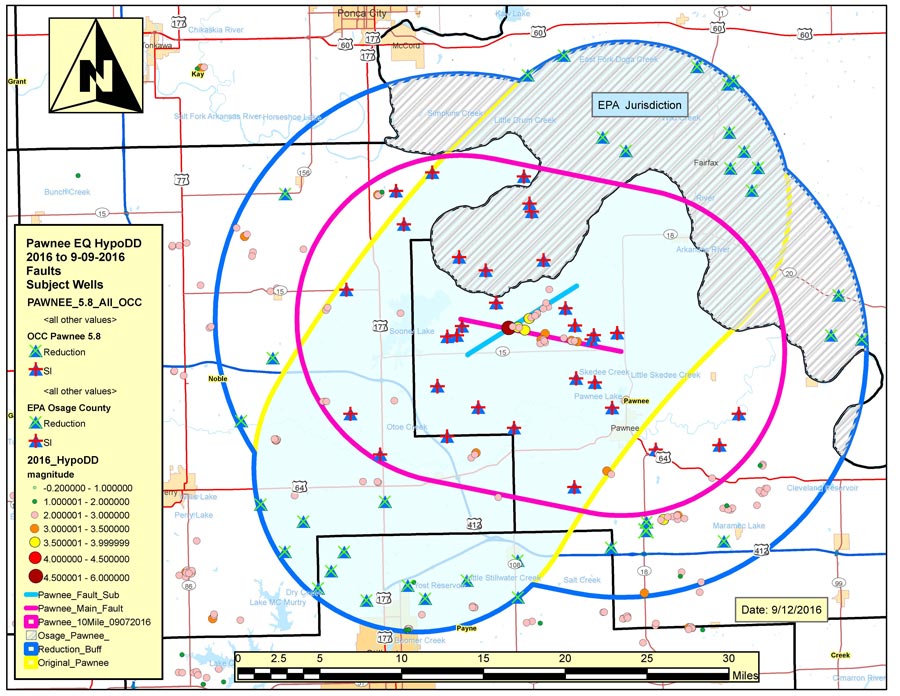 The restrictions introduced following the September 3 earthquake were refined days later in response to new fault data arising from work by the Oklahoma Geological Survey (OGS) and the USGS. The OGDC designated a 1,116-square-mile (AOI) around the epicenter of the quake and extended restrictions to 67 wells. While some of the wells originally shut down are now permitted to resume operations at a reduced level, 32 wells must cease operating indefinitely.
Time and improved seismological data will tell if these measures will be effective. The link between wastewater disposal and increased seismicity has never been unequivocally proven, but it is now generally accepted in scientific circles. For more on this hot topic, see Does Fracking Cause Earthquakes? In April 2015, the OGS announced that it considers it "very likely that the majority of recent earthquakes, particularly those in central and north-central Oklahoma, are triggered by the injection of produced water in disposal wells."
The OGS argued that "an increase in the frequency of earthquakes can be observed to follow the oil and gas activities (plays) characterized by large amounts of produced water." It further stated that "seismicity rates are observed to increase after a time delay as injection volumes increase within these plays," noting that in central and north-central Oklahoma, this time delay has typically been several weeks to a year or more.
Conversely, there will likely be a time delay between injection volumes decreasing and earthquake rates falling in response. Shaking can happen years after wastewater injection because it is not possible to know where injected water or its consequent pore pressure changes will migrate to or how they will impact an area where strain has been building. The big September 3 earthquake occurred only a few months after injection well activity had been reduced. It may be some time before any decrease in Oklahoma earthquake frequency from reduced levels of wastewater injection can be established.
To help companies assess the risk, AIR is developing an Induced Seismicity Model for the Central and Eastern U.S. The model will be incorporated into the updated AIR Earthquake Model for the United States schedule for release in 2017.