My father could remember standing night after night in his back yard, 20 miles from London, watching the orange glow in the sky as the city burned as a result of bombing during World War Two. A massive incendiary raid on December 29, 1940, sparked the Second Great Fire of London. The first Great Fire engulfed the metropolis 350 years ago this week, and the anniversary was marked with a series of events culminating in the spectacular burning of a 394-foot-long wooden model of the city.
The Great Fire started in a Pudding Lane baker's shop on September 2, 1666, and—fanned by strong winds—spread rapidly through the densely packed, timber-built city. It was finally halted on September 5, after destroying more than 13,200 houses and 87 parish churches, as well as St Paul's Cathedral, the Royal Exchange, the Custom House, and several prisons. About 400 acres—80% of the walled City of London—was laid waste, and 70,000 of its 80,000 inhabitants lost their homes.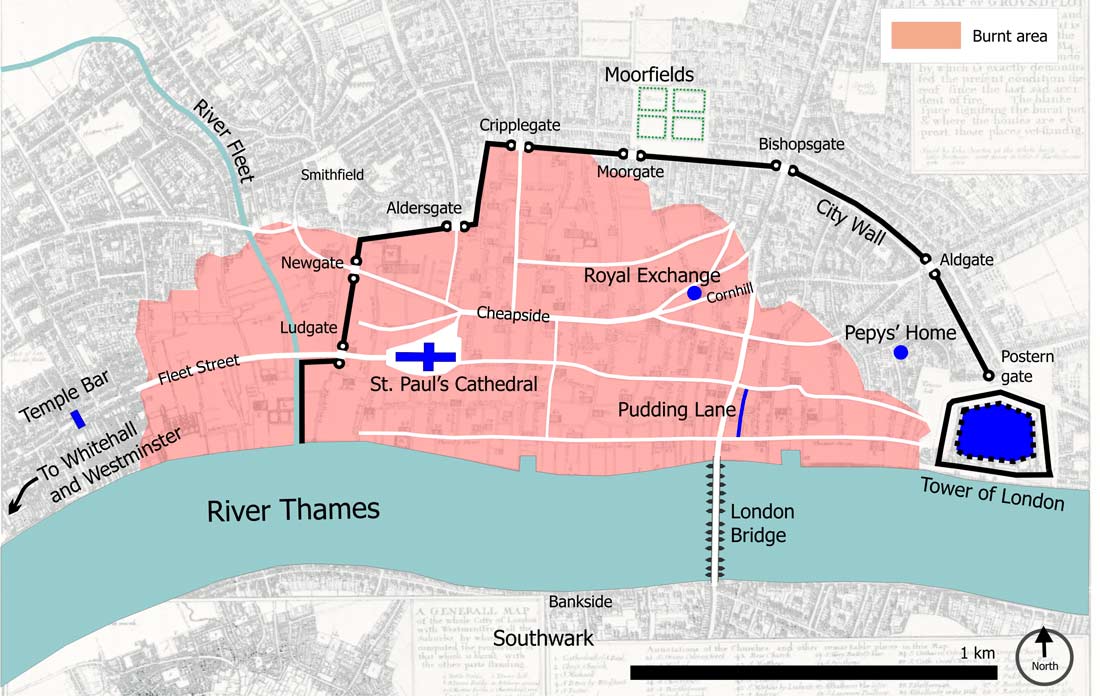 A major peril
London is not, of course, the only place to have suffered a catastrophic urban conflagration. Great Fires occurred frequently where open flames and large numbers of flammable structures coexisted with inadequate fire suppression resources. Famously, ancient Rome burned in the year 64 A.D. during the reign of the Emperor Nero. Fires following earthquakes devastated San Francisco in 1906 and Tokyo in 1923. About 65 acres of Boston's downtown area and financial district burned in 1872, bankrupting dozens of insurance companies and causing enormous economic loss. As 17,000 properties in Chicago succumbed to a major blaze on October 8, 1871, an even more devastating wildfire was raging in Northeastern Wisconsin and Upper Michigan, which laid waste to an area more than twice the size of Rhode Island, destroyed a dozen communities in its path, and remains the most damaging wildfire in North American history.
As major concentrations of exposures, towns and cities have always been vulnerable to fire damage, and many of them have experienced major conflagrations more than once given their long histories. New York, for example, burned in 1776 and again in 1835; Amsterdam was devastated in 1421 and 1452; New Orleans suffered in 1788 and 1794; Moscow went up in flames four times between 1547 and 1812; and London also experienced major blazes in 1130 and 1135 as well as the deadly Great Fire of Southwark in 1212.
Improving resilience
A stone's throw from AIR's London office stands The Monument, a 202-foot stone column capped with gilded bronze flames.  It both marks the neighborhood in which the Great Fire began and commemorates the rebuilding of the city.
Reconstruction after a major urban conflagration has often resulted in the adoption of at least some mitigating measures. Seventeenth century London, for example, responded by building back better, creating a new city of brick and stone with wider streets and effective firewalls between structures. Another result was the birth of the property casualty insurance industry as we know it today. London's first successful fire insurance company was established in 1681 to provide cover (and fire-fighting services) to brick and frame homes, and others quickly followed.
Still a significant peril
Although fire-fighting resources and building design have improved significantly since 1666 and open flames are far less prevalent, urban conflagrations are still a risk today and exhibit a number of distinguishing features. Fire typically spreads rapidly through developed areas—with structures themselves acting as fuel—often so rapidly that firefighters do not have time to construct firebreaks. As extreme wind conditions continue, the fire becomes chaotic and out-of-control, and may penetrate deeply into an urban area.
AIR's Wildfire Model for California simulates wildland-urban interface (WUI) fires that turn into urban conflagrations, such as the 1991 Oakland Hills Fire. For urban conflagrations in general, Geospatial Analysis via Touchstone® enables licensees to perform a deterministic risk analysis with their own view of risk on accumulations of property exposures in areas exposed to natural and man-made catastrophes. It combines powerful spatial visualization with exposure, hazard, and loss data, providing important insights into exposure risk.