Located on the Pacific Ring of Fire, Indonesia has seen more than its share of natural disasters. It is routinely identified in the Center for Research on the Epidemiology of Disasters' Annual Disaster Review as one of the five countries most frequently impacted by catastrophes. In the last 10 years, it has experienced many volcanic eruptions, floods, and earthquakes, and was the source of the 2004 Indian Ocean tsunami—one of the deadliest natural disasters in recorded history.
Earthquake Shake
The biggest threat to Indonesia comes from earthquakes. Located on the convergence of the Eurasian, Australian, and Pacific plates, Indonesia is situated in one of the most seismically active areas on Earth. The country has experienced many significant temblors resulting in countless deaths and billions of dollars in economic losses.
AIR's newly updated industry exposure database for Indonesia captures the country's building inventory, which includes industrial facilities, at a very high resolution. The total value of insurable properties is estimated to be more than USD 3 trillion, of which close to 35% is accounted for by masonry construction, which has significant potential for earthquake damage. Residential property contributes almost 40% of total property value, and industrial property represents around 35%.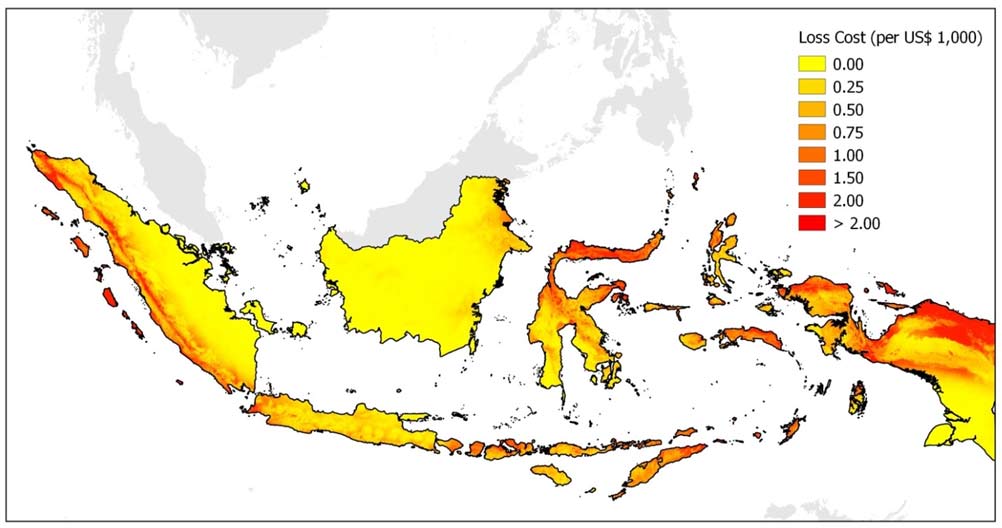 Tsunami
The massive M9.1–9.3 earthquake that occurred off the west coast of Sumatra in 2004 caused a tsunami that killed more than 230,000 people in 14 countries around the Indian Ocean; at least 170,000 died in Indonesia alone. In addition to the tragic loss of life, events like this can cause enormous damage to property and infrastructure and result in huge insurance losses. Fortunately, tsunamis on the scale of that experienced in 2004 are rare, but Indonesia's 6,000 inhabited islands—particularly the largest, Sumatra and Java—are vulnerable to more frequent smaller-scale events.
Flood
Heavy monsoon rains frequently trigger flooding and landslides in large areas of Indonesia. Deforestation, poor urban planning, and compromised natural drainage contribute to the flash floods and more widespread flooding that occur regularly, even in urban areas. Jakarta—the capital of Indonesia and one of the largest and most populous metropolitan areas in the world—has 13 rivers flowing into it and is, therefore, naturally susceptible to flooding. About 40% of the city is below sea level and it is sinking at a rate of roughly 3.5 cm per year, adding to its vulnerability. Few cities are more flood-prone.
Volcanoes
Indonesia's geography is dominated by volcanoes; it has more of them than any other country. It is estimated that 127 of them are active, and the most active—Kelud and Merapi on Java—have been responsible for thousands of deaths in the region. Two of the most devastating volcanic eruptions in history occurred in Indonesia; the eruptions of Tambora in 1815 and Krakatau in 1883 together claimed more than 100,000 lives and caused significant losses. In recent history, the eruptions of Mount Merapi in late 2010 affected more than 350,000 people, caused more than 350 deaths, and resulted in significant disturbance to the aviation sector in Asia.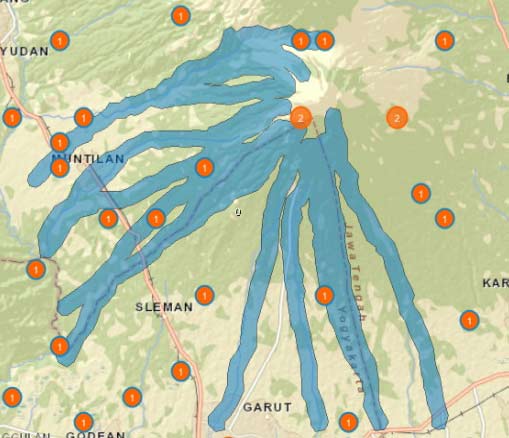 Volcanic eruptions can produce significant losses to infrastructure, property, and business interruption. Although probabilistic volcano models are not widely available due to the unavailability of data, tools like the Geospatial Module in AIR's Touchstone® platform can help in calculating accumulations due to this risk.
Catastrophe models help organizations prepare for the financial impacts of natural disasters. This summer AIR will release a comprehensively updated earthquake model for Indonesia which provides an up-to-date view of seismic risk in the country and enables the explicit modeling of shake, liquefaction, and tsunami. The model will enable the insurance industry to quantify losses to property, infrastructure, marine cargo and hull, and automobiles in Indonesia.