There are an estimated 12.8 million households in California, and only 870,000 of them—a mere 6.8%—purchased earthquake insurance from the California Earthquake Authority (CEA) last year. This small number is particularly disheartening considering the USGS estimate of more than a 99% chance that an M6.7 earthquake or greater will impact California in the next 30 years. The last earthquake of such magnitude was centered in Northridge, caused 60 deaths, and damaged almost a half a million homes.
In 2016, the CEA has taken a major step toward incentivizing more Californians to buy earthquake insurance via a two-pronged strategy: lower prices and product flexibility. It was partially motivated by findings in a 2010 Rand Corporation study, sponsored by the CEA, to understand how price plays into the low earthquake insurance take-up rate in the state.
Recall from your Economics 101 class that price elasticity of demand is:
(% change in quantity demanded) / (% change in price)
The larger the value, the more sensitive buyers are to changes in price. The Rand study found that the price elasticity in the California earthquake insurance market is only -0.44. Price elasticity less than 1 is considered relatively inelastic, meaning a change in price causes only small changes in demand.
The CEA is lowering rates by 30% in 2016, and expects this to increase the take-up of earthquake insurance by about 13% (-0.30 x -0.44 = +0.132). Historically, the CEA has lowered its rates twice and both times were followed by small upticks in policy count, as seen in the figure. Perhaps not surprisingly, the occurrence of an earthquake—especially one close to home—seems to impact policy take-up just as much as a premium reduction.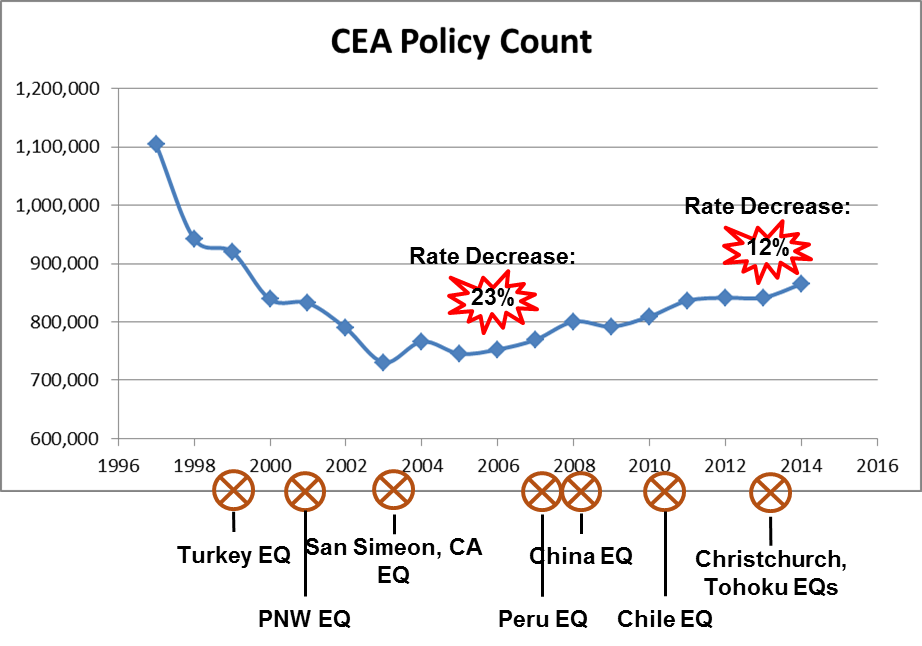 From the beginning of the program in 1996, the CEA earthquake policy was designed to meet only statutory minimum insurance requirements. Over the years, the CEA has made minor enhancements to its product. For example, in 2012 they introduced a new "Homeowners Choice" policy that featured the ability to purchase even higher limits of personal property coverage and secure up to USD 1,500 of first-dollar coverage for emergency repairs after an event. The CEA is addressing the major remaining limitations in its 2016 policy options by offering:
More deductible options: people have different comfort levels for both risk and affordability, so it makes sense to offer choice
A separate deductible for personal property: this option allows coverage for contents when the house is not badly damaged, whereas previously contents losses were only covered after the building deductible had been met
Higher limits for building code upgrade costs: these costs can be significant, and people with higher building limits may need the extra coverage
Coverage for breakable items and masonry veneer finishing: homeowners can purchase these additional coverages, which have always been excluded from coverage in the past
The main area of focus is cost of the product relative to real (or perceived) value. The CEA is hoping that the double attraction of a lower base price and expanded coverage options will overcome the current perception that you'll pay too much for what you get.
The average annual cost per policy for the roughly 870,000 CEA policies was previously only USD 694, and the 30% rate reduction this year will be felt unequally across the state. Areas of the state most at risk of earthquakes, including Los Angeles and San Francisco, also have the highest rates; this will not change. The CEA has about 20 rating territories, with base rates that can be as low as USD 0.35 per USD 1,000 of building coverage to almost USD 3.00 per USD 1,000 in these high-risk areas. If you do the math for a USD 250,000 home, this ranges from about USD 90–750 in annual premium. In addition to spatial variation in rate reduction, the change in price will also vary by coverage option. The CEA now has a nifty Premium Calculator on its website, which allows you to enter a few basic things about your house and coverage options to get an instant premium estimate.
It will take some time to see if the CEA's initiative is successful and if these new, more flexible policies offered at lower rates are seen as a better value. With the right effort to get the word out, I would like to think that it will help to move the needle; let's hope that happens before another big earthquake does.
For more information about the shortfall in earthquake insurance coverage in California, see Twenty Years After Northridge—Can We Fix Earthquake Insurance in California? and the infographic Who Will Pay for the Next Great California Earthquake?