Officials are just beginning to assess the damage in Fort McMurray following the massive devastation caused by the wildfire that began on May 1. It is clear, however, that the scale of destruction is enormous, and the fire will certainly be one of the costliest natural disasters in Canada's history. The fire itself is now moving southeast into sparsely populated forest. It remains out of control, and it may take months to extinguish the last of the flames. Without power, gas, or a water supply, Fort McMurray remains unsafe and closed, and evacuated residents will not be able to return for several weeks.
How the Fire Became a Disaster
With very few exceptions, catastrophic wildfires occur when three conditions are met simultaneously:
Dry heat maximizes the volatility of vegetation
Extreme winds occur, driving the propagation of a fire through that vegetation
Fire ignites close to a moderately or heavily populated area
All three conditions existed in the vicinity of Fort McMurray. There had been a stretch of dry heat, fuel was plentiful, and strong and erratic winds complicated the firefighter's task. We don't know yet how the fire started, but it began west of Fort McMurray and spread rapidly through forest to elevated neighborhoods surrounded by woodland, quickly outpacing local firefighters' capacity to contain it.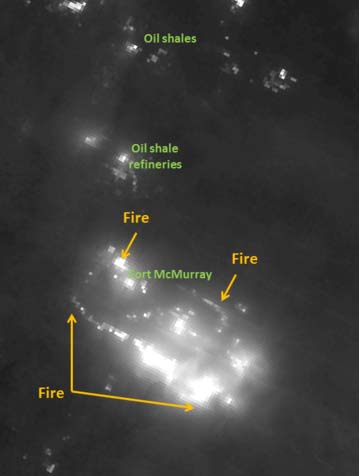 Major Destruction
Preliminary estimates of damage in and around Fort McMurray are now being reported. Firefighters had to prioritize key infrastructure and homes that could be saved. The airport, water treatment plant, municipal building, hospital, and all functioning schools were safeguarded. Known losses include a newly completed but not yet operational school, the clubhouse at the golf club, a gas station, the Super 8 hotel, and a large number of homes. Current information suggests that a total of about 2,400 structures have been lost—roughly 10% of the total.
Fortunately, downtown Fort McMurray apparently experienced little damage. Gregoire and Saline Creek to the south appear to be unscathed. Wood Buffalo to the west and the neighborhoods of Beacon Hill, Abasand Heights, and Waterways south of the downtown area, however, have suffered catastrophic losses.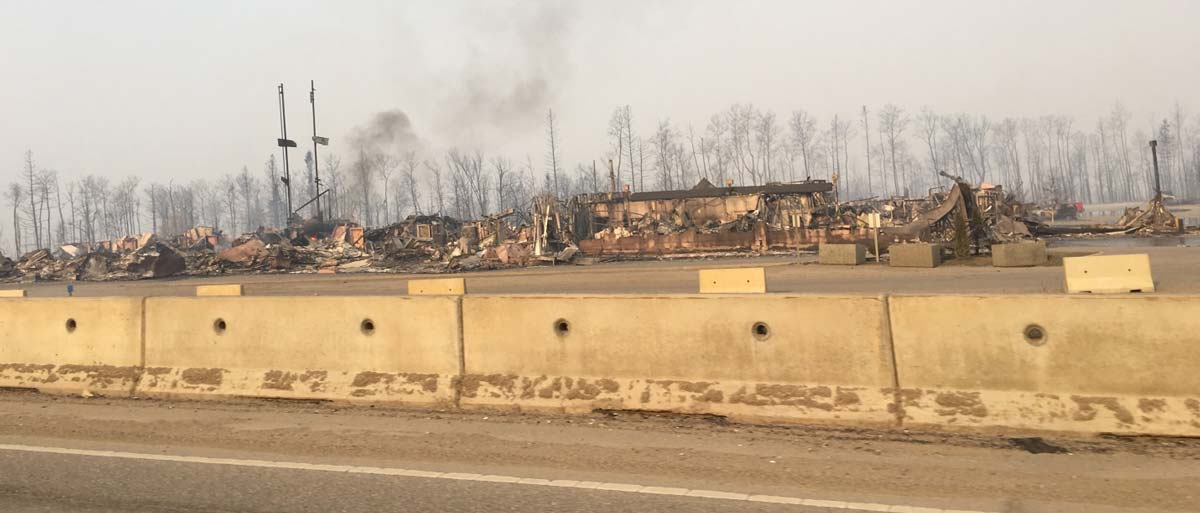 Record Losses?
It is too soon to put a number on those losses, but clearly they will be historic. Insured losses will surely exceed those from the 2011 Slave Lake wildfire in Alberta, estimated by the Insurance Bureau of Canada (IBC) to have been more than CAD 700 million. They may also exceed the CAD 1.9 billion estimated by the IBC to have resulted from the 2013 Alberta floods, Canada's costliest natural disaster to date.
Many homes have been destroyed along with their contents. Most homeowner and business owner insurance policies in Canada cover fire damage, and most homeowner and tenant insurance policies will provide coverage for reasonable additional living expenses for a specified period of time if residents have to leave their homes because of a mandatory evacuation order. Comprehensive or all perils auto insurance policies usually cover damage to vehicles from fire.
Demand surge may inflate insurance claim costs, and business interruption will be a significant driver of losses, particularly for the oil industry. With about 4% of global daily production, Canada is the world's sixth largest producer of oil. Fort McMurray is a hub for oil sands extraction in a region with the world's third largest oil reserves. Production in the area has been reduced or shut down because key personnel were evacuated. This is reducing the area's oil production by about 1 million barrels per day. Every week of reduced oil production hurts Canada's economy. A bit of good news, however, is that some oil sands facilities north of Fort McMurray are already working to resume production. Restarting is a slow and expensive process, however, and operators in the area may have to resort to service companies and suppliers from other regions until the area is resettled, adding to their costs.
Wind Direction Prevented an Even Greater Disaster
The blaze first moved north and east across Fort McMurray, but on May 4 strong winds began to turn it back to the south, away from the most heavily developed area. Had the flames instead shifted to the north, they could have easily caused additional severe damage as they moved through downtown Fort McMurray and the northern neighborhoods, then on to the forest and oil sands facilities beyond. Fortunately, this did not happen, but given the extent of damage that has been experienced this is already a major natural disaster, and it will take the region some time to rebound.