Only a fraction of the total economic risk from natural disasters is covered by the insurance industry today. This gap is very pronounced in Asia, but even in the U.S. insurance coverage for earthquakes and floods is minimal despite the significant risk they represent.
For regions and perils covered by existing catastrophe models, the gap between insured and insurable losses and even bigger gap between insured and economic losses suggest areas of potential growth for the insurance industry. For a quick overview, check out our infographic, Measuring the Global Insurance Gap.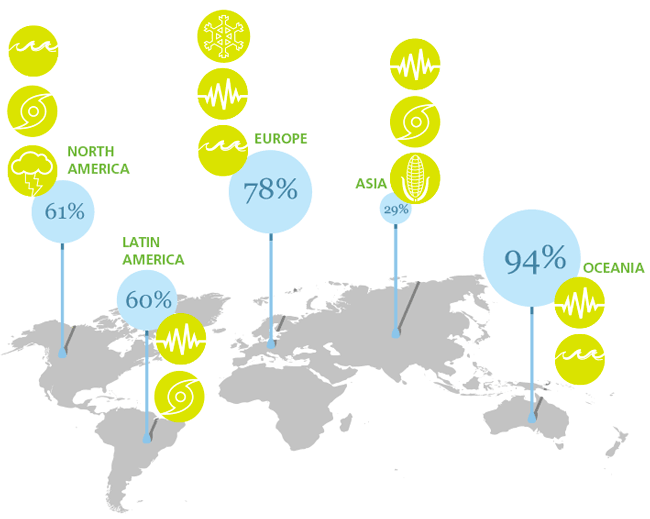 Global EP Curve Report
These gaps are made clear in Global Modeled Catastrophe Losses, AIR's 2015 global exceedance probability (EP) curve report, which provides companies with a comprehensive view of catastrophe risk. This fourth annual AIR global EP curve report details key loss metrics such as average annual loss and select return period losses for perils and regions currently modeled by AIR, including new models and updates released in 2015, as well as updated industry exposure databases.
For the first time, the 2015 report presents global EP metrics on both an insured and insurable basis, where insurable loss metrics include all exposures eligible for insurance coverage assuming standard limits and deductibles regardless of whether they are actually insured. Also newly added in the 2015 report were estimates of global economic average annual losses from catastrophes, which can often vastly exceed insured losses depending on the region and peril.
The real value of having credible catastrophe models across multiple perils and regions that can be analyzed together seamlessly is to better anticipate possible global outcomes, including future catastrophes and future years that may produce losses exceeding any historical amounts.
A comprehensive and meaningful view of potential losses can be obtained using AIR's global industry exceedance probability curve, which can help put actual losses into context. Economic loss estimates can be used to facilitate public risk financing and the development of regional resiliency plans to help societies better prepare for catastrophes and reduce the ultimate costs.
Furthering the Discussion
AIR is uniquely qualified to provide the global insurance industry, financial institutions, and government organizations with the insightful view of risk presented in Global Modeled Catastrophe Losses. Having already developed many of the key models needed to address the largest gaps, as well as detailed industry exposure databases for each modeled country, AIR can work with insurers to assist them in entering new markets to help close the so-called "protection gap."
Leaders from the public and private sectors, as well as academia, will discuss the protection gap and how it can be closed at this year's Envision conference for AIR clients. Panelists include Ian Branagan, Chief Risk Officer of Renaissance Re, Erwann Michel-Kerjan, Executive Director of the Risk Management and Decision Processes Center at the Wharton School of Business, and Glenn Pomeroy, Chief Executive Officer of the California Earthquake Authority. The panel is scheduled for April 6, and the Envision agenda and registration are available online.