Tropical Cyclone Winston continues to churn in the South Pacific days after devastating Fiji as a Category 5 storm, the strongest ever to strike the island nation.
Winston was named by Regional Specialized Meteorological Center in Nadi, Fiji, on February 11, when it was located to the east of Vanuatu. Since then, the storm has tracked rather erratically, first to the south, then northeastward, before sharply looping back west toward Fiji. In the process, it passed by Tonga as a Category 2 storm and again a few days later as a Category 4 storm.
Both of Fiji's largest islands, Vanua Levu and Viti Levu, felt direct impacts of the storm. At the time of landfall on February 20, the Joint Typhoon Warning Center (JTWC) estimated Severe Cyclone Winston's maximum 1-minute sustained winds to be a whopping 180 mph. The minimum central pressure was estimated to be 915 millibars just before making landfall on Viti Levu.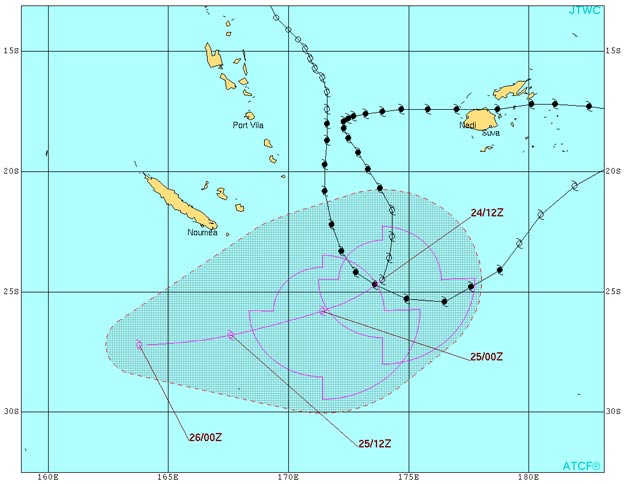 The South Pacific tropical cyclone season runs from November 1–April 30 of the following year. In the era of satellite imagery (since the late 1960s), Winston is believed to be the third-strongest cyclone in the southern hemisphere; its winds place it just behind Cyclone Monica (April 2006) and Cyclone Zoe (December 2002), both with estimated maximum sustained winds of 185 mph. Prior to Winston, the strongest known cyclone to directly impact Fiji was Category 4 Cyclone Evan in 2012.
Winston is the third South Pacific severe cyclone of this season. A severe tropical cyclone is defined as approximately equivalent to a hurricane in the Atlantic Ocean. The South Pacific typically experiences 3–4 severe cyclones per season.
Based on recent reports, at least 42 people in Fiji lost their lives due to the storm, and seven sailors remain missing. Downed power lines resulted in around 80% of the islands' residents losing power. According to the Fiji Times, many towns were cut off from aid and services. The scene around Rakiraki on Viti Levu's northern coast was described as one of "devastation and despair."
Fiji is one of the 15 Pacific island countries participating in the Pacific Catastrophe Risk Assessment and Financing Initiative (PCRAFI). It remains to be seen whether Typhoon Winston will trigger a payout for Fiji under the Pacific Catastrophe Risk Insurance Pilot (PCRIP)―a derivative of the PCRAFI study―for which AIR developed the underlying risk models and provides post-event loss calculations.