While India experiences a wide variety of natural catastrophes, it is not considered an earthquake-prone country, when in fact, it is. In the last 250 years, at least 30 damaging quakes have occurred there—most during the last century. Just within the last two decades, five earthquakes—1993 Latur, 2001 Bhuj, 2005 Kashmir, 2011 Sikkim, and 2015 Gorkha—have caused significant damage.
One of the largest and deadliest was the 2001 Bhuj earthquake in the state of Gujarat, which destroyed more than 400,000 houses, killed at least 20,000 people, and impacted buildings as far as 250 km from the epicenter. Most recently in January 2016, an M6.7 earthquake hit Imphal, the capital of the state of Manipur, killing a dozen people and injuring hundreds more in India and Bangladesh. According to the Government of India's National Disaster Management Authority, almost 60% of the subcontinental landmass is vulnerable to earthquakes and at least 38 cities lie in high-risk seismic zones.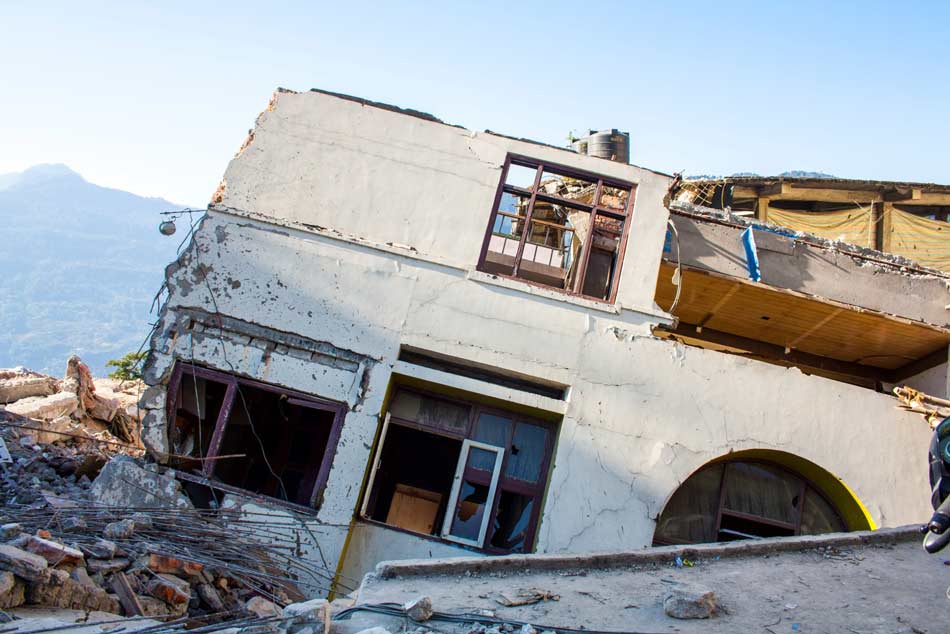 Why is India so prone to earthquakes?
India is located near the plate boundary zone between the India and Eurasia plates. The India plate moves northward at about 4 cm/year and collides with the southern margin of the Eurasia plate; it is the largest collision zone on Earth. The collision of these two plates is responsible for raising the Tibetan Plateau, the Himalayas, the Tianshan Mountains, and the Pamir Mountains. The 2,000 to 3,000 kilometer wide deformation zone runs from northern India to central China and Mongolia and has resulted in a large number of fault systems.
There are three different types of earthquakes in India. The first is directly related to the collision process. These quakes are located in the Himalayan regions in northern India, Pakistan, and Afghanistan. The second type is the subduction zone earthquake where one or more tectonic plates are sliding beneath another. These are experienced in the Makran subduction zone in the west, and in the Andaman and Nicobar Islands in the southeast, where the Bay of Bengal meets the Andaman Sea. The third type occurs in the relatively stable continental environment of the India plate itself. These earthquakes are low in frequency, but tend to release high amounts of stress and can impact large areas.
AIR's New Earthquake Model for India
To address the rising concern about earthquakes in the country and manage the risk, we have developed the AIR Earthquake Model for India, which provides the most up-to-date view of seismicity based on the latest historical catalogs, information on active faults, and data from local and regional GPS networks. The new model provides an efficient and quantitative tool that can help risk managers in the insurance and reinsurance industry to better assess the risk their portfolios may be exposed to from earthquakes. To learn more about the AIR Earthquake Model for India, download the brochure here.