Atmospheric rivers hit the headlines from time to time. They did so, for example, in October 2015 when a "hybrid atmospheric river" funneled additional moisture into the mix while Hurricane Joaquin was doing its thing and contributed to record rainfall that flooded parts of the Southeast and Mid-Atlantic regions of the U.S.
So, what are they, and why should they concern us?
Atmospheric Rivers (ARs) are concisely defined by the National Oceanic and Atmospheric Administration as "relatively narrow regions in the atmosphere that are responsible for most of the horizontal transport of water vapor outside of the tropics." They are usually several thousand kilometers long, and according to two researchers at MIT, one can transport a greater flow of water than the Amazon.
ARs typically form in the tropics and flow along the boundaries between large areas of divergent surface air flow, including some frontal zones associated with extratropical cyclones that form over the oceans. ARs can—and do—happen anywhere, but they typically impact western coastal regions in mid-latitudes. Parts of North America, western Europe, and northern Africa are most likely to be on the receiving end of them.
There remains some debate as to how ARs form. Some suggest a feed of moist air from the subtropics into the center of a cyclone, although a study published last year argues that they are water vapor exported from cyclones as they travel poleward from the subtropics.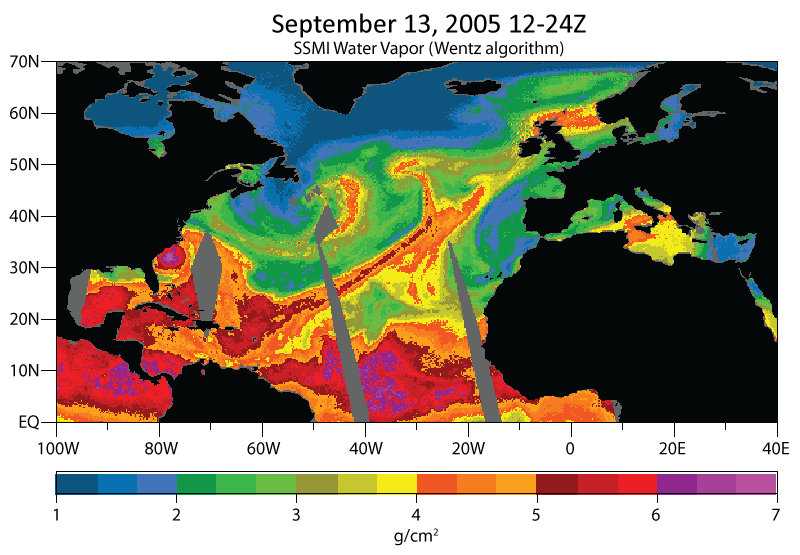 There are usually several active ARs in the earth's atmosphere at any one time. Most are moderate affairs providing much-needed rain or snowfall, and other than inducing complaints about the weather they go relatively unnoticed. For example, a few AR events are typically responsible for about 30–50% of the annual precipitation along the western coast of the U.S.
Most ARs deliver heavy rain to a location for about 20 hours, but can deposit much more if they stall. The ARs of greatest concern are those that contain the largest amounts of water vapor and the strongest winds, and that stall over watersheds vulnerable to flooding. These can deliver extreme rainfall to a region for an extended period, leading to major flooding and everything that entails.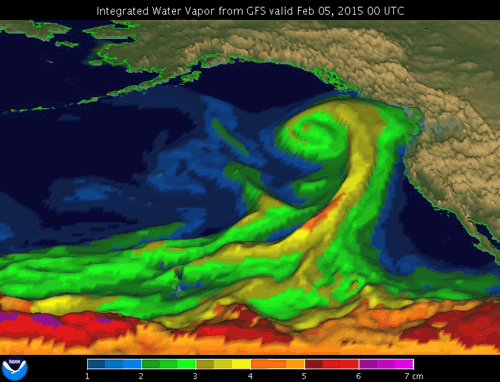 Perhaps the best-known AR is the meteorological phenomenon called the Pineapple Express, which originates near the Hawaiian Islands and extends to locations along the Pacific Coast of North America. It delivers its moisture load as torrential rain in coastal regions and heavy snowfall in the mountains, then continues inland into the prairies as a Chinook wind after drying out.
As with other ARs, things start to get nasty when the Pineapple Express combines with another weather system, such as a major arctic trough. When this happens, warm, tropical rains fall on frozen ground and snowpack, leading to some serious runoff and snow melt. This scenario contributed significantly to the Great Flood of 1862 that featured the worst flooding on record in California, Oregon, and Nevada.
The Pineapple Express has fueled many of the major storms that have impacted the West Coast. These include the series of storms that hit the Puget Sound region in November 2006, the unusually intense rainstorms that hit south-central Alaska in October 2006, and the powerful winter storm that hit Northern California in December 2014.
On the East Coast of the U.S., ARs were implicated in the "Snowmageddon" events of 2010 and contributed to the major mid-Atlantic and southeastern flooding of October 2015. Further afield, they delivered a record-breaking storm to Norway in September 2005 and caused severe flooding in northwestern Britain in November 2009.
Ever since the term was first coined in 1998, ARs have been attracting more attention as understanding of the phenomenon and its potential impacts increases—and the impacts can be significant. The United States Geological Survey's "ARkStorm" scenario (USGS OFR-2010-1312), designed to help California prepare for a potentially catastrophic series of ARs, impacted a quarter of the homes in the state. It caused up to USD 725 billion in damages and repair—mostly through flooding—which is a much greater loss than a big San Andreas Fault earthquake. Further, this scenario, although fictitious, is entirely plausible for it is based on historical precedent—the Great Flood of 1862. We will likely be hearing a lot more about ARs in the future.