The World Economic Forum's Global Risk Landscape for 2016 makes for sobering reading. Among the five most likely risks for the coming year are extreme weather events (ranked second) and major natural catastrophes (ranked fifth). Cyber attacks sit at 11 on the list in terms of both impact and likelihood. The sobering effect continues with interstate conflicts, states collapse or crises, and terrorist attacks sharing scores similar to environmental disasters.
Within a week of the report being published we some saw these risks manifest themselves. Along with Hurricane Alex forming in the North Atlantic on the very day the report was released (the first Atlantic hurricane in January since 1938), there was a string of terrorist attacks around the globe by groups that formed in the shadows of failed states or states in conflict.
Six attacks took place in four different countries, starting with an incident in Iraq on January 11 and ending with a late night attack in southern Turkey on January 17. The attacks were perpetrated by a wide variety of groups:
Islamic State (ISIS) conducted a direct attack in Baghdad and inspired local attackers in Jakarta and Istanbul
A local separatist group, the Kurdistan Workers Party (PKK), attacked twice in southern Turkey
Al-Qaeda (long-thought dead in the Maghreb), or its local affiliate Al-Murabitoun, attacked in Burkina Faso
The targets selected were a Starbucks in central Jakarta; several hotels in Ouagadougou, the capital of Burkina Faso; a police headquarters in Turkey; and a square near the famous Blue Mosque in Istanbul. The sheer variety demonstrates that there is no way to predict the location or collateral damage of the next potential attack.
Existing functionality within Touchstone® and a new feature being introduced later this year will, however, help the market identify and mitigate the risk, helping organizations identify areas of highest exposure concentration worldwide and estimate potential losses based on attack type. AIR's Dynamic Ring Analysis tool―released in Touchstone 3.0―can identify the true ring of maximum exposure, pinpointing the areas at highest risk from a single terrorism event.
Within Touchstone, these areas―or rings―of maximum exposure can be used alongside terrorism risk maps produced by AIR's sister company Verisk Maplecroft® to broaden understanding of terrorism risk. The maps take advantage of research by Maplecroft's team of security analysts to estimate terrorism risk scores at a sub-national level.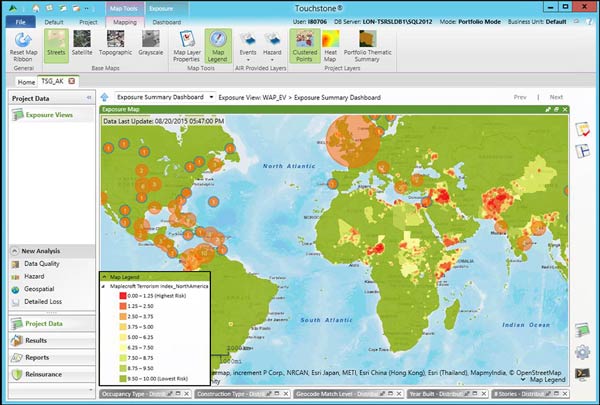 A Maplecroft terrorism map layer in Touchstone. (Source: Maplecroft and AIR)
Although it is useful to know the locations of maximum exposure densities and their likelihoods of experiencing a terrorist attack, it is equally important to know what the potential loss might be if an attack were to occur. With the release of Touchstone 4.0, licensees will be able to use AIR's new International Deterministic Terrorism (IDT) model. This new functionality will allow users to place a conventional device anywhere in 27 countries and estimate potential losses. The IDT model is similar to the U.S. deterministic model in that it uses urban density to calculate how explosions propagate through cities and rural areas.
So, whether you are dealing with another extreme weather event or the next terrorist attack, Touchstone 4.0 will offer a range of capabilities for quantifying your risk.