Only a couple of decades ago, Vietnam was recovering from years of war and was among the poorest countries in the world. Since the mid-1980s it has enjoyed annual per capita growth of more than 5%and has emerged as one of Asia's success stories.
The country has a strategic location adjacent to China and at the center of the Association of Southeast Asian Nations (Brunei Darussalam, Cambodia, Indonesia, Laos, Malaysia, Myanmar,Philippines, Singapore, Thailand, and Vietnam). As well as significant natural resources, it has great potential for developing industrial production. Vietnam is the world's 13th-most populous country, and the nation's literacy rate is around 95%, which is a big advantage for potential growth.
Multiple Perils
Vietnam is also exposed to several forms of natural disasters,including typhoons, floods, droughts, and earthquakes. Natural disasters cost about 1% of GDP annually, on average, according to a World Bank study.
Vietnam's 3,200 km of coast is affected by up to 10 typhoons each year, most of them accompanied by heavy rain and the risk of flood. In addition, the Red River basin in the north and the Mekong Delta in the south (where half of the nation's rice is grown) flood almost every year during peak monsoon season.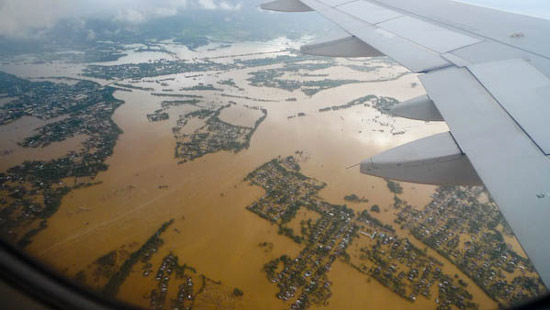 Flooding near Da Nang, Vietnam, as a result of Typhoon Ketsana in 2009 (Source: Nguyễn Thanh Quang)
Vietnam is less likely to experience a strong earthquake than many countries in the region. It is, however, located between the world's two most seismically active regions-the circum-Pacific belt and the Alpide belt-and, although earthquakes are rare, they do occur. Recent studies have improved knowledge of active faults in the region and indicate the possibility of large earthquakes. The north of the country is the most seismically active region and experienced M6.7-6.8 events at Dien Bien in November 1935, and at Tuan Giao in June 1983. Southern Vietnam is not immune, and experienced an M5.5 event in November 2001, the strongest temblor to hit Vietnam in a decade.
Insurance Penetration
The Vietnamese insurance market has been booming, and the outlook continues to be positive. While penetration is currently low, demand is accelerating. Between 2005 and 2011, non-life insurance premium grew 25% per year on average. The country's continued economic development is expected to have a positive impact on the demand for non-life insurance.
The increase in household income and insurance awareness has attracted insurers from overseas into the Vietnamese market, and this trend is expected to continue. The non-life insurance market is still dominated by domestic companies, but of the 29 non-life insurance companies and two reinsurers currently operating in Vietnam, about one-third are foreign entities.
The total value of insurable properties in Vietnam is about USD 1 trillion, of which around 15% is insured. The insured exposure is dominated by large commercial and industrial property. Penetration for residential and small commercial properties is still very low,and this provides a huge opportunity for growth.
Economic development, increased insurance penetration, and significant natural hazards mean growing levels of risk. AIR is currently developing fully probabilistic typhoon and earthquake models for Vietnam to help the market better quantify losses from these perils. They are scheduled for release in summer 2016.