On Wednesday, September 9, 2015, Tom Bolt, a director at Lloyd's of London, sent 15 identical cars on a 1,000-mile road trip to the Reinsurance Rendezvous conference in Monte Carlo. Monte Carlo or Bust is not a race or a rally, but a charity fundraising event organized by the London insurance market and supported by the Lloyd's Motor Club (LMC) and Club Sonar, the London insurance market's online network.
As well as being a whole lot of fun, the real goal of the event is to raise more than GBP 50,000 (USD 78,100). The four organizations that will benefit are Demelza (hospice care for children), RedR (people and skills for disaster relief), the Coombe Trust (holidays and relief to impoverished and/or disabled children, their families, and caretakers), and Action Contre la Faim (worldwide lifesaving programs in nutrition, food security, water, sanitation, and hygiene).
Each of the cars running to Monte Carlo is sponsored individually and proudly displays the sponsoring company's logo. Sponsors include Amundi, Capsicum, Schinasi UK Ltd, YDR Chartered Loss Adjusters, XL Catlin, Ptarmigan Underwriting Agency, Venesis, ANV Group, Club Sonar, Price Forbes, and AIR Worldwide.
Surprisingly, the cars for what one of the organizers dubbed "this irresistible challenge" are not powerful racing machines or luxury grand tourers. They are Citroën 2CVs-minimalist utilitarian air-cooled sub-compacts designed before World War II to enable atypical peasant farmer to cross a plowed field carrying a basket of eggs safely on the seat! Some 3.8 million of these extraordinary cars, famed for their remorseless rationality, were built in France before production finally ceased in 1990.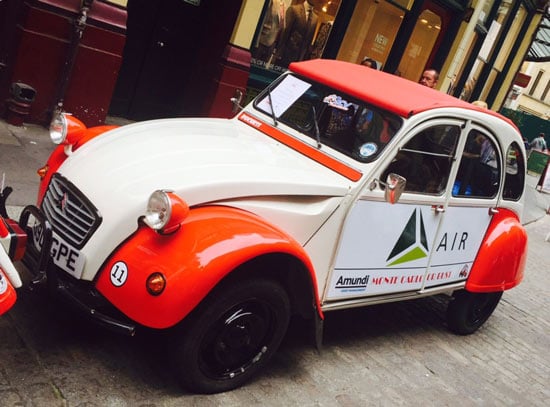 The AIR-sponsored Citroën 2CV heading for the Reinsurance Rendezvous conference
The vehicles used for the run to Monte Carlo have been immaculately restored by 2CV Adventures Ltd., who is providing mechanical and emergency support for them during the trip,including essential parts and a spare car. The participating 2CVs each have a Garmin GPS unit, roll cages, and disc brakes-but very few other concessions to modernity.
The 2CVs each crossed to Calais by Euro tunnel carrying up to four occupants, and will complete their journey in five manageable stages. The cars will be stopping en route in Paris and Reims for promotional events and should reach the French Riviera on September 13. The Reinsurance Rendezvous begins the following day, and the cars will be greeted at the conference venue by Lloyd's chairman, John Nelson, and CEO, Ing a Beale. Their occupants will later attend the conference reception events.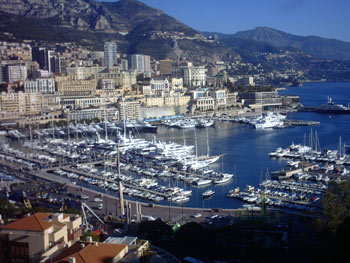 The Grand Harbor at Monte Carlo
Although drivers are wearing race suits while on the road,racing is not permitted. Other forms of competition will instead be introduced to keep participants responsibly engaged. These include a sponsored "Eggs Challenge," for which each car will carry-and aim to preserve intact-a dozen eggs in keeping with the 2CVs' original design brief.
Although the event has set itself a particular fundraising goal,organizers are keen to raise as much money as possible for the chosen causes, and they encourage contributions. All of the cash collected will go directly to the selected charities. You can help by donating online.