In the context of declining property rates, many insurance organizations are looking for ways to derive even more value from catastrophe modeling applications. Leveraging sophisticated analytics has always been an effective way of achieving competitive advantage. Using them efficiently is just as crucial.
Since Touchstone®'s first release, the inclusion of a comprehensive set of APIs has allowed the integration of other systems with Touchstone. With the release of Touchstone 3.0 we continue to expand our API capabilities.
Marginal Impact
The Marginal Impact Service Client API combines the losses to a portfolio with the losses for a contract being considered. It allows organizations to determine how much risk writing the new business will add to their portfolios. Comparing the additional losses with the premium gained enables organizations to evaluate whether the risk is likely to be profitable.
AIR has now added support for running this type of analysis via API. The API also allows users to retrieve the results without having to load them from the SQL database. As a result, it is now possible to import, run a loss analysis, and evaluate the potential profitability of prospective business in an automated way.
The mock-up below shows a typical underwriting dashboard, which illustrates how AIR analytics-and in particular Marginal Impact-could be integrated within internal systems.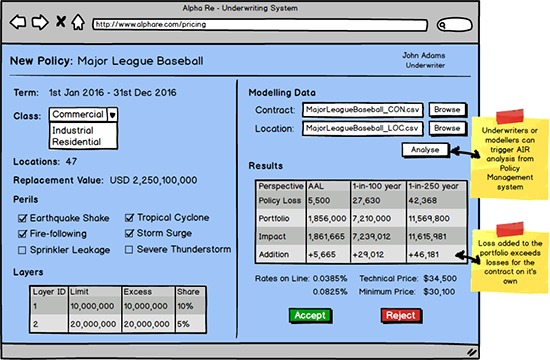 Mock-up of a hypothetical underwriting system's dashboard
Getting Activities
In Touchstone, activities are created when jobs such as imports,analyses, and exports are started. Activities are responsible for running the job and reporting back progress. The Get Activities API allows users to track the progress of a single job.
However, many clients have requested the ability to track the progress of multiple jobs. Some want to build a "Status Dashboard"where they can monitor the health of the Touchstone environment.They may want to know, for example, how many jobs are in queue, or how many have been submitted in the last 24 hours. The new Get Activities API allows users to return all activities based on specific criteria, such as the type of jobs or the dates on which they were submitted or completed. Why not build a Touchstone dashboard for your organization?
Getting Currency Exchange Rate Sets
One of the key advantages of using a Touchstone API is that it removes much of the need for SQL queries. Until recently,Touchstone API users had to use an SQL query to find the Currency Exchange Rate Set when running an analysis. The new Get Currency Exchange Rate Sets API enables you to get all Currency Exchange Rate Sets within a Business Unit.
Importing Reinsurance Program Files
Clients often use the Touchstone API to attach databases received from brokers for analysis as part of the pricing process.Reinsurance brokers are now also providing RPX files as part of the risk transfer process containing outward reinsurance the cedant has already purchased. This is critical to include in the modeling process, as failing to account for other treaties may overstate losses to reinsurers.
The Import Reinsurance Program API, with which you can import these reinsurance programs, supplements the existing Data Source Management and Import APIs used in pricing applications to maximize pricing efficiency.
There are many more new APIs available in Touchstone 3.0, and if you're interested in the technical details visit the Touchstone Developer Zone. Here you'll find all the tools you need to begin integrating Touchstone into your workflow. Better yet, join us for Interface Europe 2015 in London from 24th-25th September, where you'll be able to explore the ins and outs of Touchstone's API library-hands on!