Insurers writing business in the U.S. face a different set of rate filing rules and regulatory requirements in each state and the District of Columbia. It was the McCarran-Ferguson Act of 1945 that set the stage for state-based regulation of insurance in the U.S.-a contrast to most other countries in the world where the insurance industry is regulated at the country level. This unique regulatory regime remained static for 65 years until the Dodd-Frank Wall Street Reform and Consumer Protection Act of 2010 (Dodd-Frank) was passed. Dodd-Frank has brought huge changes to the financial industry and relatively minor but important changes to the insurance industry. In particular, it established the beginning of federal oversight with the creation of the Federal Insurance Office(FIO).
Importantly, the FIO's role does not transfer regulatory authority from the states, but instead introduces a direct reporting link to Congress, a resource for monitoring the industry as a whole, and an additional means for U.S. representation in the worldwide regulatory arena.
There is no Dodd-Frank impact to the long-standing state regulation of insurers, as insurers continue to submit underwriting plans and rate levels through the ubiquitous state filing systems. I used to work in the ratemaking department of a big insurance company and was responsible for preparing and submitting rate filings to several state departments of insurance (DOI). A regular part of the rate filing process is the inevitable Objection Letter(a set of follow-up questions from the DOI), typically focused on assumptions or methodologies used in the filed rate level indications. Quite reasonably, the regulator needs to understand how the ratemaking actuary arrived at the new rate levels to ensure they are reasonable and not unfairly discriminatory.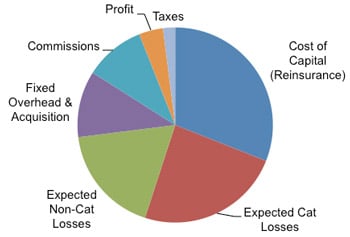 Sample breakdown of property premium dollar in a coastal area
A critical component of rates in many states is the portion associated with catastrophe risk, be it from wind, freeze,earthquake, or other perils. Separating the rate dollar into component parts (see figure) reveals how material this catastrophe component can be and why regulators sometimes take particular interest in assumptions used in its estimation.
Not only does AIR support our clients when they get questions about our catastrophe models and their output from the DOIs in a rate filing context, we also interact with the regulators directly to educate them about our models. In addition, AIR interacts with some regulators in their regulation of the models themselves. Currently there are five states that have specific requirements related to the submission, review, and/or acceptance of catastrophe models for use in ratemaking. The states vary in what they require AIR to provide for review and also in what they do with the information.
The most strenuous regulation is that of the Florida DOI for the hurricane peril. Most are familiar with the Florida Commission on Hurricane Loss Projection Methodology and their review of hurricane models. The states of Hawaii, Louisiana, and South Carolina require modelers to submit confidential information about the assumptions underlying the hurricane model and highlight any that are specific to their state (such as the model's recognition of a state's unique building codes). Finally, the State of Maryland examines other perils besides hurricane and requires us to meet with them each time there are changes in these models.
We often get questions about our compliance with state regulation of catastrophe models. For example, insurers need to know which version of a model has been submitted in a particular state or whether the DOI has other requirements related to the use of cat models in rate filings. To help our clients with these important questions, we have prepared an FAQ for 2015: Which Versions of AIR's Models Are Submitted to State Regulators (client login required). In addition to summarizing the model submissions, we also include our own understanding of the analysis options each state may mandate. Having this information in one place should speed up the rate filing process and help insurers shoulder their regulatory burden.