Hurricanes, earthquakes, fires, and floods are shocks to cities,but communities also experience stresses from high unemployment,overtaxed or inefficient public transportation systems, endemic violence, or chronic food and water shortages. A city that has fully assessed its risk and developed a strategy to mitigate it is better able to respond to adverse events and to deliver basic functions in both good times and bad.
100 Resilient Cities (100RC) is dedicated to improving the capacity of 100 cities around the world to become more resilient to the various challenges they face in the 21st century. It is financially supported by The Rockefeller Foundation and is managed as a sponsored project by Rockefeller Philanthropy Advisors. The 100 participating cities will serve as a vanguard of knowledge, experience, and best practices for other communities around the globe.
Cities are being selected in three waves, the first of which was finalized in December 2013 and the last of which will be determined in 2015. It's a rigorous selection process; 700 cities applied in the second wave, but only 35 could be accepted. The successful cities come from all around the world, and among those in the second wave are Cambodia's Phnom Penh, Enugu in Nigeria, Chennai in India, and Santiago de los Caballeros in the Dominican Republic, as well as Rotterdam in the Netherlands, London in England, and Boston in the United States.
"Resilience Challenges" are identified for each city in the 100RC network; for Boston they are flooding, infrastructure failure, lack of affordable housing, rising sea levels and coastal erosion, social inequity, cyber risk, and terrorism. 100RC then provides the resources to develop a roadmap to resilience along four main pathways:
Financial and logistical guidance toward the appointment of a Chief Resilience Officer (CRO) to lead the city's resilience efforts
Expert support for development of a robust resilience strategy
Access to solutions, service providers, and partners from the private, public, and NGO sectors who can help them develop and implement their resilience strategies (Platform Partners)
Membership of a global network of 100RC member cities who can learn from and help each other
The Platform Partners are carefully selected from the private,public, academic, and non-profit sectors and their role is to help CROs with their various resilience challenges. Currently there are 48 partners across 64 platform services, providing member cities with access to a curated suite of resilience-building tools and services that perhaps they did not know about before, could not have afforded, or did not appreciate the pertinence of.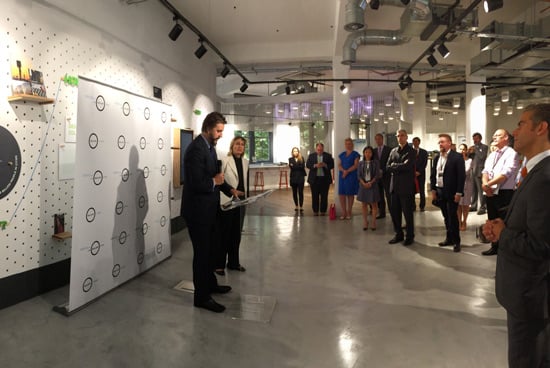 AIR Senior Vice President and Managing Director of International Operations Milan Simic (right center) attended the opening of the100RC European regional office in London (Source: 100RC)
In addition to marking the opening of their European regional office in London, 100RC announced on July 1 that AIR has now been accepted as a Platform Partner. AIR's participation will allow individual cities to improve their physical, financial, and societal resilience through leveraging the latest developments in catastrophe modeling and research and reflects our overall mission to help society better understand and manage catastrophe risk.
100RC will help 100 cities survive, adapt, and grow no matter what kinds of chronic stresses and acute shocks they experience. But in facilitating the development of a global practice of resilience among governments, NGOs, the private sector, and individuals it will also create a legacy of wider benefit to many other communities.