Worldwide, only four heat waves have been blamed for more deaths than the one currently being experienced in India, which is now associated with the loss of about 2,500 lives and is the second deadliest in the nation's history.
A heat wave is a prolonged period of unusually and excessively hot weather, which may also be accompanied by high humidity. From March to July, spells of particularly hot weather occasionally occur over certain parts of India, and these often migrate from one region to another. This May, a combination of dry continental air blowing in from Iran and Afghanistan, strong solar radiation, and a favorable anticyclone over the Indian subcontinent triggered heatwave conditions.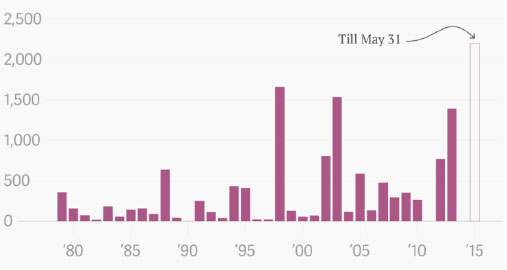 Deaths caused by heat waves in India (Source: India Meteorological Department)
Temperatures soared above 40.0°C (104.0°F), and the weather became increasingly uncomfortable in affected parts of the country. Moreover, the lack of rain and dry, hot winds from the desert state of Rajasthan in India's northwest have proved to be important ingredients of the heat wave. The worst-off areas are the southeastern states, most particularly Andhra Pradesh and Telangana. Yet as dry and hot northwesterly winds continued to blow across the country, the heat wave has also gripped the states of Rajasthan, Delhi, Haryana, Chandigarh, Bihar, Jharkhand, Orissa,and Chhattisgarh, where temperatures have increased up to ~45.0°C(113.0°F).
One reason for the record number of deaths is that high humidity and soaring temperatures have increased stress levels. Most of those who have died have been elderly, children, or laborers suffering from sunstroke or dehydration; the most vulnerable segments of society from poorer socioeconomic groups suffer most from such meteorological hazards.
Higher daily peak temperatures and longer, more intense heatwaves are becoming increasingly frequent globally as the climate warms. The number of days in India when temperatures approach 45.0°C (113.0°F) has increased in the past 15 years, and heat waves are more intense with each passing year. This has a devastating impact on human health and increases the number of casualties. In 2002 and 2003, thousands of people in Andhra Pradesh died when the ambient temperature rose above 49.0°C (120.2°F).
A 2012 India Meteorological Department report noted that between 1901 and 2011 the linear trend per 100 years in the annual mean land surface air temperature anomalies over India was 0.59 °C. And it has been shown that the east coast of India has experienced an upward trend in temperature of about 0.6°C., which the Times of India reported could be attributed to anthropogenic activities and depletion of vegetation,along with increased aridity-all conditions that may aggravate severe heat wave conditions.
Fortunately, the monsoon season begins in June. When (and if) it comes, the rains will help to ease temperatures. But for people in the affected region they can't come soon enough.