It's been nine years since the last major hurricane made landfall in the United States. With a stat like that, it's easy to get lulled into a false impression that this is the new normal. And most experts seem to be expecting yet another quiet Atlantic hurricane season.
While the hurricane season officially runs from June 1 to November 30, the first named storm of the 2015 season (Tropical Storm Ana) has already formed, and quite understandably, everyone seems to want to know how many more storms may lie in store. Even with improved technology, seasonal forecasts are challenging-and the earlier they are made, the more challenging they are. Two of the best-known outlooks are issued by the Department of Atmospheric Science at Colorado State University (CSU) and the National Oceanic and Atmospheric Administration (NOAA).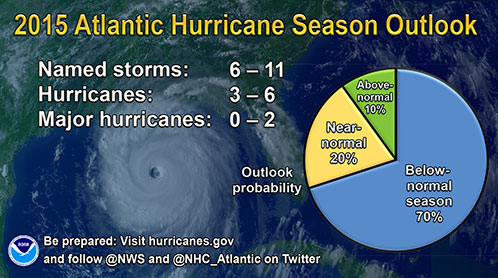 A Summary of NOAA's outlook for 2015 (Source: NOAA)
NOAA released its forecast for 2015 on May 27, and expects that activity this season, "will likely be below-normal." They predict a 70% likelihood that there will be 6 to 11 named storms (winds of 39 mph or higher), of which 3 to 6 could become hurricanes (winds of 74 mph or higher). Of these, zero to 2 could become major hurricanes (Category 3, 4, or 5; winds of 111 mph or higher). While a below-normal season is likely,according to NOAA, a 20% chance of a near-normal season, and a 10% chance of an above-normal season are noted.
CSU, which has been issuing seasonal forecasts since 1984, thinks that 2015 will be, "one of the least active seasons since the middle of the 20th century." In addition to predicting a below-normal number of storms across the Atlantic this year, their 2015 forecast, issued on April 9, also anticipates "a below-average probability for major hurricanes making landfall along the United States coastline and in the Caribbean," and expects Atlantic basin Accumulated Cyclone Energy (ACE) and Net Tropical Cyclone (NTC) activity to be approximately 45% of their long-term averages.
The principal reasons given (by both sources) for the fore casts of below-average activity are that El Niño is already affecting wind and pressure patterns, and is forecast to last through the hurricane season, and that sea surface temperatures in the tropical Atlantic are expected to be less warm than in other recent years(albeit close to or warmer than normal).
The fact that Tropical Storm Ana formed ahead of the official start to the season should not be seen as indicating that this will be an active season. But just as a brisk start doesn't mean that things will continue that way, so it is equally true that a below-normal season can still produce catastrophic impacts. As history has shown us on many occasions, just one major storm can cause record-breaking losses.
Want more information regarding the hurricane outlooks for 2015 and the science behind them? See AIR's 2015 Hurricane Season Preview webinar.