The 2014 United States Farm Bill created new crop insurance programs that were first employed in 2015. The status of these programs and their implementation in AIR's MPCI models were a highlight of this year's Crop Symposium, held during the AIR Envision 2015 client conference in our hometown of Boston.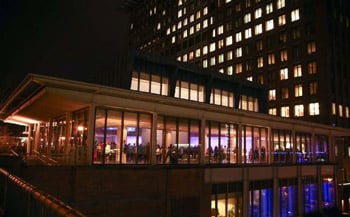 AIR's Envision conference took place at the World Trade Center on the Boston waterfront
Participants from reinsurance companies, reinsurance brokers,and crop insurance companies gathered for the event, which featured a panel session as well as presentations from AIR staffers and five guest speakers.
Dr. Rob Johansson (USDA Acting Chief Economist) generated considerable interest when he shared the latest yield and price volatilities affecting the main crops in the U.S. Multiple Peril Crop Insurance (MPCI) program. Dr. Keith Coble (Mississippi State University) discussed the impact of price volatility and rating methodology. The presentation by Dr. Gary Schnitkey (University of Illinois) resulted in his comments on the impact of the Farm Bill Programs, STAX and SCO. The U.S. Farm Bill was also the focus of the presentation by Dr. Tom Zacharias (National Crop Insurance Services), which explored its impact on the profitability of the crop insurance industry. Kyle Beatty, President of AIR's sister company Verisk Climate, described recent advances in crop health monitoring and claims adjustment using remote sensing capabilities currently available to crop insurers and reinsurers.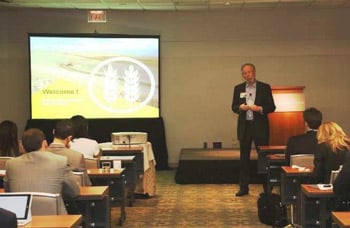 AIR's George Davis was among the presenters at the CropSymposium
A highlight was the industry panel focused on opportunities and issues in crop insurance. Brian Young (ADM Crop Risk Services), Andreas Rohm (Munich Reinsurance), and Dr. Tom Zacharias (National Crop Insurance Services) were the discussants. Among the topics covered were the impact to the crop insurance industry of the new U.S. Farm Bill, RMA rerating, and the future direction of the program. This discussion was enhanced with the comments of attendee Tom Worth (Chief Actuary of the USDA/RMA).
During the "Meet the Researchers" sessions, AIR scientists presented what a crop megadisaster might look like in China,factors involved in modeling the forest fire peril, and details regarding the crop hail events in Nebraska last year. Other AIR staffers presented the theory and results of the AIR Fund Designation Service, updates to the MPCI models for the U.S. and China, and CATRADER® crop model tips and sensitivity analyses.
The AIR crop team closed the symposium with an overview of global agricultural insurance and trends and the crop model development roadmap that AIR will pursue in the coming years. A discussion of why the industry needs modeling at a finer resolution to better assess crop portfolio risk and optimize profits under the current price, yield, and regulatory uncertainties closed out the Symposium.
All in all, it was a great time, and we hope to see you at our next crop symposium. In the meantime, look for the season's first CropAlert® in June!