AIR just hosted its first ever Interface developers conference in parallel with our annual Envision client conference. It was great to see such a tremendous response and turnout. We had a full house of developers from all walks of industry, including direct insurers, reinsurers, and brokers- from all over the world!
Interface was a two-day event, where we first covered the basics of Touchstone® APIs. We then proceeded to build a browser-based solution that leveraged many of the core workflow components that Touchstone offers. This was a real application that attendees built themselves, and then they were free to take it back to their offices as a foundation for further development and integration.
Interface attendees getting up close and personal with Touchstone APIs
As a product manager on AIR's Integration Solutions/APIs, I have had the opportunity to meet and visit with many of our clients,thereby gaining a pretty good understanding of many of their internal risk management workflows and processes. Everyone's workflow is unique, of course, and many of the challenges are unique as well.
One thing that struck me at Interface was how creative and innovative our clients are at solving their own workflow challenges. Risk management and underwriting workflows are quite complex. A complete understanding of risk typically entails several applications and several data sources from disparate vendors. Over the years, complexity has increased, but at the same time,insurance companies have stepped up their game in terms of adopting cutting edge technology. APIs, in particular, have enabled our clients to integrate the various touch points under a single application.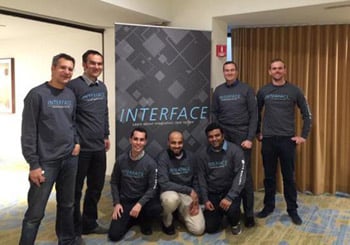 AIR's Interface team for our annual Envision client conference
Our clients are adopting APIs at a rapid pace, more so than I've seen in even the past few years. They are using these APIs to stitch together custom-tailored applications that are specific to their companies' business workflows. I often imagine the pure joy of seeing a project through to completion. One day, they are using sometimes five (or more!) applications to accomplish their job, often re-keying the same information into these applications. The next day, they are using one, streamlined application, and all of their data and analytics are available via a single click.
I was so impressed by the level of sophistication of these systems and also the creative ways in which they were integrated. It was a pleasure and an inspiration to work with this group, and on behalf of the whole #Interface team, I can say that we look forward to more face-to-face interaction of this kind at the next Interface!