Over the last 85 years the number of people at risk from tornadoes has increased dramatically, yet the tornado fatality rate has dropped significantly. This is undoubtedly good news, but a bigger drop would be even better. Increasing the average tornado warning time from the current 13 minutes is one way to do this. So why can't scientists forecast tornadoes earlier?
The basic ingredients for severe weather are well known:moisture, instability, vertical wind shear, and lift. Each must be present in the right amount at the right time for tornadoes, hail, and strong winds to form. Meteorologists monitor the large-scale distribution of these variables though a national radar system (WSR-88D, better known as NEXRAD radar) and an ever-expanding constellation of satellites.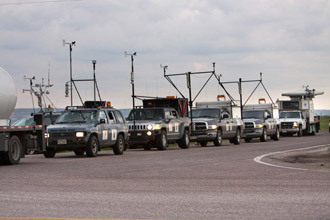 Multiple field projects, including VORTEX 2-the largest tornado field project in history-have helped scientists get a better view of how severe weather systems form and act. Faster computers enable meteorologists to generate better composite index values-the numbers that indicate which areas of the country are likely to experience severe weather at a particular time. These are also the same index values that AIR leveraged in developing its severe thunderstorm models for the U.S. and Canada.
Despite all the technology, scientists still have an incomplete understanding of the physical mechanisms of tornado genesis and are constrained by a lack of high resolution observational data. Typical radar observations are too coarse and sample too high in the atmosphere to accurately represent the tornado vortex. Similarly, surface observations are typically spaced tens of kilometers apart, far too coarse to record meaningful information about many storm-scale phenomena. These challenges, coupled with the fact that approximately 75% of all super cells fail to become tornadic, are part of the reason tornado genesis is still an active area of research.
Research efforts have aimed to change this. Most recently,VORTEX 2 brings together hundreds of scientists equipped with mobile Doppler radars, high resolution mesonets, balloon soundings, LIDAR, tornado pods, photogrammetry instrumentation, and other meteorological instrumentation with the goal of taking coordinated measurements near tornado environments.
The mobile team has traveled thousands of miles over three months, intercepting and recording data on tornado-producing storms. Think of it as a modern day "Twister," but on a larger scale, and minus the flying cows. The results will take years to analyze; however, they are sure to provide scientists and meteorologists with the most detailed observations of tornado genesis ever recorded.
In the meantime, scientists will continue to monitor the changing weather patterns and alert the public to the risk of tornadoes as early as possible. The rest of us will have to wait for a time when tornadoes can be predicted as reliably as tomorrow's high temperature, however far into the future that maybe.