The Own Risk and Solvency Assessment (ORSA) is an annual internal process undertaken by insurers to assess the adequacy of their enterprise risk management (ERM) and solvency positions under both normal and severe stress scenarios. An ORSA represents the insurer's own assessment of their current and future risks. While it is true that insurers in the U.S. are required to adopt the process in 2015, (re)insurers worldwide are also experiencing a similar regulatory push toward affirmation of their ERM practices.
A primary driver of insurance risk is potential losses from natural catastrophes, and insurers with material exposure in cat-prone areas will have a process in place to identify, assess, monitor, and mitigate this risk. AIR's clients use Touchstone® to do so, and AIR continues to roll out enhancements to Touchstone that expand reporting capabilities to further assist the ERM process.
In their ORSA report insurers should explain their process for identifying the material risks they face. Cat models are the best tools for identifying material risk from natural catastrophes,global pandemics, and terrorism. Insurers using Touchstone can import their worldwide portfolio and, using the World All Perils event set, produce a global exceedance probability (EP) curve from which they can identify risk contributions by region and peril.
The EP curve represents the full range of potential losses to the insurer's portfolio, reported alongside the probability that each loss amount will be experienced or exceeded in a given year. Touchstone's exposure view functionality and fast run-times make it easy to produce regional or peril-specific EP curves that reveal the various facets of the insurer's worldwide cat risk. In addition, output from the cat model is readily consumed by downstream financial forecasting models to further understand the implications of catastrophe risk to an insurer's financial strength.
Feedback on an ORSA pilot project undertaken by the National Association of Insurance Commissioners emphasized the importance of stress tests, scenario analyses, reverse stress tests, and combined stress testing. AIR has leveraged its scientific expertise to develop a world scenarios catalog containing many extreme but still plausible catastrophe scenarios that are perfect tools with which to plumb the depths of an insurer's financial strength. And again,the catastrophe model output is readily digested by other ERM processes-assessing, for example, how a severe shock event can impact an insurer across various risk categories (i.e., a terrorism event with implications for operational or reputational risk).
Insurers must explain how they monitor changes in risk overtime. Unlike last-generation solvency monitoring that focused on backward-looking point estimates, the process expected for the ORSA is forward looking. Upcoming functionality to be implemented this summer in Touchstone includes the ability to compare exposures and losses year-over-year or between different model versions and to visualize these changes on a map.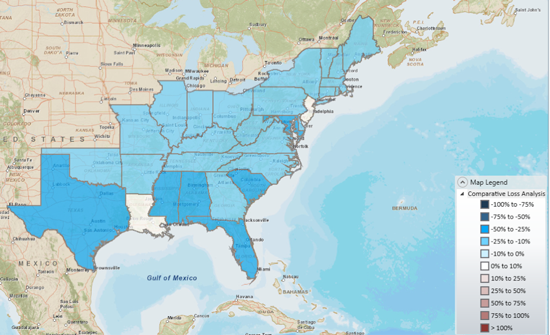 A map generated in Touchstone illustrating changes in hurricane losses from one year to another
A picture, they say, is worth a thousand words. Regulators have expressed their satisfaction with pilot ORSA reports containing graphs and figures to aid their understanding of the risk management efforts. The geospatial capabilities built into Touchstone give clients access to powerful tools that can visually convey the details of cat exposure, contributing factors, and changes in risk exposure over time-all of which are vital for risk and solvency assessment.
Touchstone has many features that can aid an insurer in its ERM practices and ORSA reporting requirements. Feedback from subsequent pilot projects, and eventually official ORSA reporting, will continue to inform Touchstone enhancements to allow clients to more easily comply with monitoring and reporting requirements.
To learn more about ORSA, check out the American Academy of Actuaries webinar Exploring the New Era of ORSA.