In late February, I had the chance to present our U.S. severe thunderstorm model at the National Tornado Summit in Oklahoma City, OK. Attendees included representatives from the insurance industry, regulators, emergency managers, disaster recovery companies, and many others.
One of the activities during the Summit was a trip to the National Weather Center on the University of Oklahoma campus, about 25 miles south of Oklahoma City, in Norman. Although the building itself is on the OU campus, it houses several federal agencies under NOAA, including the Storm Prediction Center (SPC), the National Severe Storms Laboratory (NSSL), and Norman's local National Weather Service (NWS) office.
Of special note was the tour of the Storm Prediction Center office. The SPC itself is really a single large room within the Weather Center-albeit a very important room! This is where every severe thunderstorm and tornado watch in the entire United States is issued. Staff are on duty 24/7 and monitor many different data sources, some of which we could see on the screens, including radar, satellite imagery, and various computer model outputs.
My snapshot of the Storm Prediction Center at a time when there was almost no storm activity
across the United States
The facility is located in the infamous Tornado Alley and was designed to withstand the 144 mph winds of an EF-2 tornado. Safe rooms inside the center were constructed with Kevlar panels and bullet proof glass to withstand 261-318 mph winds (equivalent to an EF-5 tornado). I hope this stuff is never needed, because 300 mph winds are brutal, and an EF-5 tornado doesn't care.
Also contained within the Weather Center building is one of the nation's 120+ local weather offices. Local weather offices are responsible for severe weather warnings and detailed monitoring of small regions of the country. The map below shows how the responsibility is divided between the local offices, with OUN representing the region that the Weather Center's particular office looks after.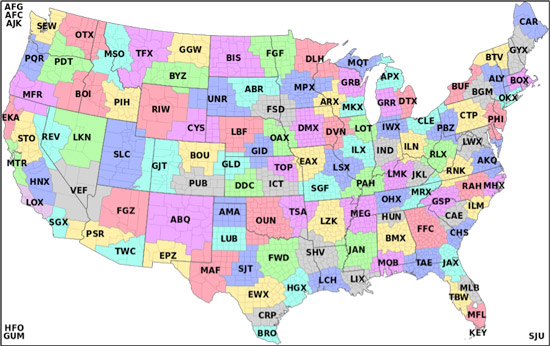 If you are in the Oklahoma City area, tours of the National Weather Center are offered to the public with 1-2 weeks of advance notice. If you can't get on a tour, you can always grab a snack at the Center's Flying Cow Café (remember the movie "Twister"?). And if you're really into weather, the Center offers a "unique" venue for weddings and other special events!