The terms "manufactured home," "mobile home," and "modular home" are sometimes used interchangeably, but while they have some features in common, these types of home have more differences than similarities.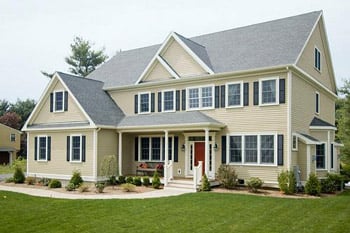 A modular home in Needham, Massachusetts (Source: Shemmann,Wikimedia Commons)
Modular homes are constructed off-site in segments and assembled on-site on permanent foundations. Once installed, they are hard to distinguish from comparable site-built homes. They usually have abasement, and should conform to all the local, state, and regional regulations that apply to site-built homes. On completion, a local inspector ensures compliance. Modular homes are customizable to the buyer's demands and, like site-built homes, their value usually appreciates.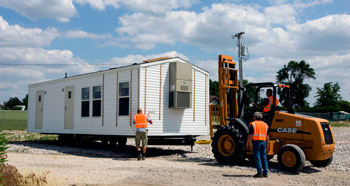 A manufactured home in transit (Source: FEMA)
Manufactured homes are constructed in a factory as a complete unit built on a steel chassis integrated into the floor system. They are installed on-site on supporting materials, usually a hard concrete surface, with a tie-down system. In some cases, it may be hard to tell a finished manufactured home from a modular home by appearance. The major differences lie in performance, including vulnerability to natural hazards, and longevity. Manufactured homes only need to conform to the federal regulations known as the Housing and Urban Development (HUD) code and are not subject to structural approval by a local inspector. In most cases,manufactured homes cannot be customized and their value can depreciate with age.
The indiscriminately used term "mobile home" properly describes manufactured homes built before the HUD code was first enforced in 1976. These are the most vulnerable type of manufactured home due to the absence of any related building codes. The vulnerability of homes manufactured after 1976 is somewhat lower, especially in relatively low wind speed events.
In 1994 the HUD code was significantly strengthened in the wake of Hurricane Andrew (1992). The beefed-up code introduced three wind zones, each with stricter design requirements, the most stringent covering coastal areas of the Gulf Coast, Florida, and North Carolina. Manufactured homes following these standards perform much better than earlier ones, but their performance is still not as good as modular or site-built homes.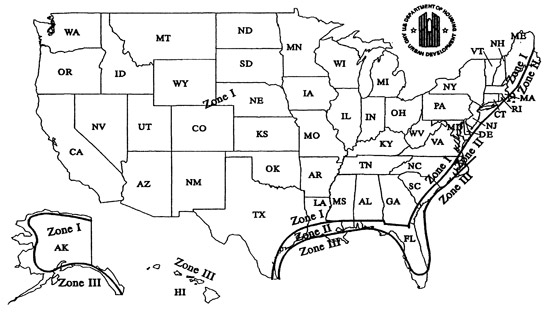 Basic 1994 HUD Code wind zone map for manufactured housing (Source:HUD)
Manufactured homes have wood sheathing material only on their ends and near the corners on their sides. This makes them more vulnerable than homes completely covered with wood sheathing. Tie-down systems are another weak point. Manufactured homes are secured to the ground with an anchorage system on which their resistance to extreme weather depends greatly. In general, this is not as good as the foundations used for modular or site-built homes. If their tie-down systems fail during high wind and flood events, manufactured homes face significant uplift, sliding, and overturning risks. The straps used to anchor these homes are made of metal and can easily deteriorate or rust in a salty and/or wet environment, reducing their resistance dramatically.
Overall, both manufactured and modular homes are cheaper alternatives to site-built homes, but they are still quite different in their performance when exposed to extreme weather. Modular homes perform more like site-built homes, and while manufactured homes are a less expensive option, their affordability comes at the cost of increased vulnerability.