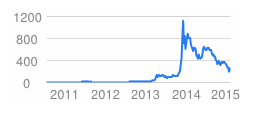 When AIR's CEO wrote that our models are a form of trusted currency, I don't think he was comparing them to Bitcoin, a so-called cryptocurrency. The concept behind Bitcoin was developed by "Satoshi Nakamoto" (in quotes because no one really knows who this person or group of people really is) in 2008 and implemented the following year. Bitcoin is now accepted by many restaurants and there are even Bitcoin ATMs. However, the value of a Bitcoin in USD over the past five years has fluctuated greatly, as shown in the graph to the right.
One appeal of Bitcoin is that it is virtually (pun intended) untraceable, and this has led to its use in illicit transactions. The other appeal of Bitcoin was that it was considered a safe currency: safe from government controls; safe in that a limited supply would help ensure stable value; safe because a publically maintained transaction log would help build trust.
Recent cyber attacks have called this safety into question.
In early January 2015, the Bitcoin exchange Bitstamp (which exchanges Bitcoins for conventional currencies) was hacked. The exchange lost the estimated equivalent of USD 5 million. The hackers attacked Bitcoin wallets that were connected to the Internet, and hence vulnerable to such attacks. Luckily for this exchange, the majority of their Bitcoin "reserves" are in offline locations (this may not make intuitive sense for an online currency, but the information needed to transact the Bitcoins can be stored offline). Another significant attack occurred last year, when the Mt. Gox exchange was hacked. That exchange went out of business after reportedly losing the equivalent of nearly USD 500 million in Bitcoins.
These recent attacks on Bitcoin show that cyber risk is becoming more and more pervasive and nearly any networked activity can introduce vulnerabilities. Unlike AIR's models (including the one we are actively developing to assess risk from cyber attacks), which are rightfully considered currency within the industry, I don't think Bitcoin has truly reached "currency" status. This would require widespread confidence in its safety, stability, and value.