Several weeks of exceptionally heavy rain have brought major flooding to the state of Tamil Nadu in India and devastation to its capital of Chennai, India's fifth largest city. Known as Madras until 1996, Chennai is a rapidly growing boom town on the coast of the Bay of Bengal, with a metropolitan area that houses almost 6 million people. It experiences exceptionally heavy rainfall and flooding every few years, so why has the recent episode been so destructive?
Aerial view of Chennai, November 2015 (Source: Veethika)
Chennai is celebrated as a major cultural and educational center, has become a significant destination for tourists, and was recently identified by Lonely Planet as the ninth-best cosmopolitan city in the world. It is also southern India's largest industrial and commercial center, a major IT hub, and known as the "Detroit of India" because of its extensive automobile industry. Chennai was recently ranked India's fourth-largest economy and boasts the third-highest GDP per capita.
The city is located on a low-lying coastal plain. Its highest point rises to 60 meters (200 ft.), but many of its neighborhoods are at sea level and its average elevation is only around 6.7 meters (22 ft.). The average annual rainfall in and around the city is about 140 cm (55 in.), and most of it is associated with the monsoon winds that blow from mid-October to mid-December. The region experiences particularly heavy precipitation every few years, but the rainfall over the last few weeks, blamed on severe low pressure formations in the Bay of Bengal, has been the heaviest in decades. Three times as much rain as normally expected fell in November, with 121.9 cm recorded in Chennai (Skymet data), and 37.4 cm fell on December 1 alone—the highest recorded daily total for a century.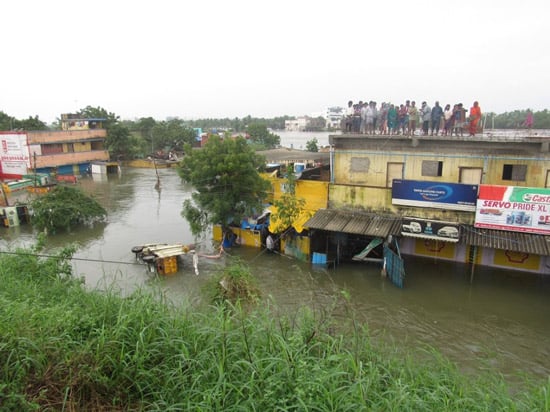 Flooding in Chennai, December 2, 2015 (Source: Destination 8 infinity)
Flooding invariably accompanies such heavy precipitation, but the hazard is becoming increasingly serious in Chennai. The rapid growth of the city places much more property and infrastructure at risk and reduces the area's natural capacity for coping with extreme rainfall. Rapid urbanization has led directly to shrinkage of the bodies of water and wetlands in and around the city that have hitherto provided a natural flood control barrier.
The storage capacity of 19 lakes in the area has dwindled as they have shrunk from 1,130 hectares to barely 645 hectares, according to the Water Resources Department (WRD). Maduravoyal Lake, for example, now covers 25 acres but used to cover 120, and the largest mall in Chennai is located on a the bed of a former lake. Water from a 250 km2 catchment drains into the Pallikaranai marshlands, which once extended to about 50 km2 are only a tenth as large today; just 4.3 km2 has escaped suburban development. Most bodies of water within the city have vanished and much of the drainage system isn't functional. Creeks and culverts are blocked with garbage and silt, and canals and rivers have been compromised.
Fortunately the rains have let up and the flooding is now receding, most of the city has power restored, the airport is open again, and busses are running once more. The current flooding has dramatically highlighted the rapidly growing amount of property at risk in Chennai, the shortcomings of its inadequate civic infrastructure, and its disappearing natural drainage. Hopefully recent events will serve as a call to action, and future extreme rainfall in the area will encounter a much more resilient city.