Catastrophe model output is the basis for understanding and quantifying catastrophe risk, and today's risk managers—at all levels within an organization—need tools that empower them and provide transparency, flexibility, and choice; tools that allow them to own their risk. How do we democratize catastrophe model output? How can we make this information more freely available in an intuitive, visually rich format?
The question brings to mind how the iPod freed our music libraries from their dusty vinyl sleeves and CD jewel cases. In a similar manner, AIR's APIs (application programming interfaces) can "liberate" the results of complex risk analyses from the desktop so they are easy to access, view, and understand.
So what's our equivalent of the iPod?
With APIs, we have the tools to enable some of this liberation. Touchstone®, which was first released three years ago, brought many powerful and innovative visualization tools to catastrophe modelers. There is, however, a certain amount of training and familiarity required to run the application and interpret the results—and not everyone is inclined to acquire this experience. With Touchstone's APIs, the company can build custom applications to suit the particular needs of key staff. One example is the "Executive Dashboard."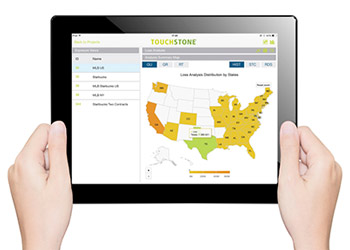 Touchstone data displayed on a tablet. (Source: AIR)
Imagine a chief risk officer or senior underwriter having all of the key metrics they are most interested in at their fingertips, wherever and whenever they want them. Such an executive dashboard can be as simple or complex as you desire.
In the simple case, it might be a tablet application that shows overall estimated losses for the company's portfolio. In another example, it may also show accumulations (e.g., by total replacement value or by exposed gross limits) distributed across various geographic areas or even customized zones.
In a slightly more complex workflow, the executive might be able to run certain "what if" scenarios. For example, what if you changed certain underwriting guidelines (e.g., those governing acceptable flood zone or distance to coast)? How might that affect your renewals?
What are the questions that your organization frequently asks of Touchstone? With the help of your IT organization, or even with the help of AIR's Technical Services Integration Team, a custom executive dashboard can be created to get information into the hands of those who need it.