The unprecedented terror attacks that occurred last Friday, November 13, impacted several locations across the city of Paris and undoubtedly began a new chapter in the fight against global terrorism. Reports currently indicate that at least 129 people were killed and more than 350 were wounded, 99 of them critically. This, the deadliest violence in France since World War II, prompted President François Hollande to denounce the attacks as an "act of war."
The Islamic State (also known as ISIS, ISIL, or Daesh) has claimed responsibility, marking the terror group's first successful mass casualty attack against the West. Combined with other recent attacks, this could signal ISIS shifting toward a more international operational presence. This does not necessarily come as a surprise, as intelligence and counterterrorism professionals have been well aware of the group's aspirations to expand operations beyond their strongholds in Iraq and Syria.
High Degree of Coordination
A series of virtually simultaneous attacks, commonly referred to as "swarm attacks," were reportedly carried out by eight suicide bombers, split into three teams, across six locations. Swarm attacks are designed to inflict the highest degree of damage possible, creating confusion and chaos while dividing the resources necessary for countermeasures. Using assault rifles, the terrorists indiscriminately gunned down innocent Parisians across the city. Seven terrorists killed themselves in suicide bombings and the eighth was killed by police.
Ongoing follow-up operations on a massive scale included a raid on an apartment in Saint Denis, resulting in eight arrests and at least two deaths, including that of suspected ringleader Abdelhamid Abaaoud. A number of raids and arrests in Belgium have also occurred.
The Paris attacks were well-orchestrated, indicating they could have been planned by experienced ISIS leaders abroad with assistance of affiliated cells within France. If this is true, it is a deviation from the typical ISIS practice to incite the actions of local sympathizers, or so-called "lone wolves," who are unlikely to have the ability to carry out such a sophisticated attack alone.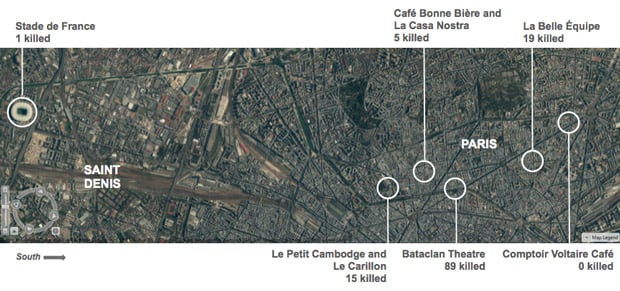 The locations of the six attacks across Paris and Saint-Denis and reported number of civilian deaths.
(Source: AIR; Data Source: Washington Post)
Precisely Chosen Targets and Weapons
In their online statement, ISIS claims the six locations for the attacks were "precisely chosen targets." They were a mix of very different venues, including a sports stadium, a handful of small restaurants, and a theatre housing rock concert. As a result, the majority of the victims were Parisian youth enjoying a typical Friday night out in the City of Light. In this way, ISIS has successfully implemented a "soft target" strategy by creating the perception that anyone and anyplace could be at risk of a future attack.
It appears, however, that the ultimate target was the national sports stadium―the Stade de France―where President Hollande was attending a soccer match between France and Germany. Reports indicate that at least one of the attackers found outside the stadium possessed a ticket to the game and attempted to enter the 80,000-person venue. A security guard discovered his explosive vest during a pat down, at which point the attacker backed away and detonated his bomb. Three other suicide bombers detonated their vests outside the stadium because this larger plot was thwarted, causing explosions heard during the live broadcast of the game.
The attackers' suicide vests are of interest. They wore identical vests containing explosives made from triacetone triperoxide, or TATP. The U.S. government's National Center for Counterterrorism identifies TATP as an explosive that is relatively easy to synthesize and highly unstable. TATP was also used during Richard Reid's failed 2001 shoe-bomb attempt aboard a flight from Paris to Miami. While the materials to make TATP are not hard to acquire, the highly unstable nature of the materials suggest the operation was guided by individuals possessing substantial explosive expertise.
Attempting to Extend Its Global Reach
While media coverage has focused largely on the events in Paris, ISIS has also claimed responsibility for another attack that took place within the same 24-hour period. On Thursday, November 12, a double suicide bombing targeted a crowded urban area within the Lebanese capital of Beirut. This was the deadliest suicide bombing to affect the city since the end of Lebanon's civil war in 1990, leaving 43 people dead and around 250 injured.
The attacks in Paris and Beirut come only two weeks after a bomb reportedly detonated on board a Russian passenger jet, ultimately bringing the plane down over Egypt's Sinai Peninsula and taking the lives of all 224 people on board. Responsibility for the attack was later claimed by an ISIS affiliate branch in Sinai.

ISIS claims responsibility for a total of 396 deaths and 600 injuries outside of Iraq and Syria in the past two weeks.
(Source: AIR; Data Source: Washington Post)
As demonstrated by these recent attacks, ISIS seems determined to establish itself as a powerful jihadist movement capable of operating far beyond the foundation of its self-declared "caliphate" within Iraq and Syria, with its eyes set on a global presence.
Earlier this week, ISIS released a new video warning that countries planning to retaliate with airstrikes in Iraq and Syria would suffer the same fate as France. In particular, calls to target Washington D.C. and European cities were mentioned. This propaganda comes in addition to threats made during their initial online statement, calling the Paris attacks the "first of the storm."
Insurance Implications
The Paris attacks are expected to have limited impact to the insurance industry. Loss of life and injuries to individuals involved are the most substantial consequences of the attack. Damages to buildings were minimal and are expected to result in limited insured property losses. In addition, the state-backed reinsurance pool, Gestion de l'Assurance et de la Réassurance des Risques Attentats et Actes de Terrorisme (GAREAT), will cover any losses to property lines, including direct damages and business interruption.