Every year the Atlantic hurricane season keeps forecasters and insurers on their toes bracing for a potential hurricane strike in the Caribbean, Central America, or the United States. But what about Canada? Although people tend to neglect the northernmost country of the continent when it comes to tropical cyclone activity, Canada has experienced its share of tropical cyclones over the years.
How Often? 
From 1951 to 2008, nearly 40% of Atlantic named storms (tropical storms and hurricanes) entered the Canadian Hurricane Centre Response (CHCR) zone, and a quarter of those made landfall in Canada. During the same period, 7% of Atlantic hurricanes made landfall in Atlantic Canada.
No major hurricane (Category 3 or more on the Saffir-Simpson wind scale) landfalls have been recorded in Canada during the last century, but since 2000 there has been about one hurricane landfall every other year.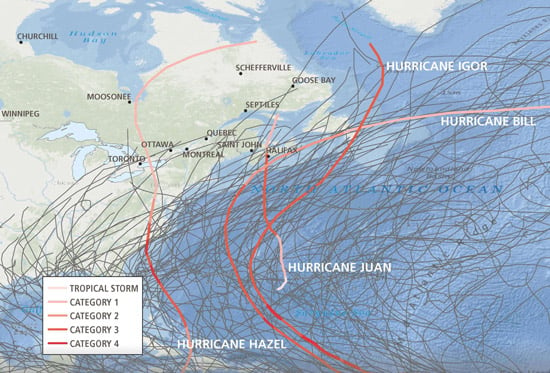 Hurricanes Hazel (1954), Juan (2003), Bill (2009), and Igor (2010)are highlighted here (Source: AIR)
Most at Risk
Eastern Canada is the main area at risk, with Atlantic Canada directly in the path of many Atlantic tropical systems. Newfoundland, and to a slightly lesser degree, Nova Scotia, are the most affected provinces. Tropical cyclones that make landfall in the U.S. can sometimes make their way into Canada, and significant damage has been inflicted in Quebec and Eastern Ontario in this way.
Given Canada's northern location, tropical cyclones often undergo extratropical transition, but even though they are no longer fully tropical in nature they can still produce damaging gusts. Canadian tropical cyclones can move quickly too, mainly due to their interaction with large synoptic mid-latitude systems. This fast forward motion can have two opposing effects on a storm's impact. A fast moving system will not impact an area for long-which helps limit the extent of damage-but its forward speed also increases the wind speeds on the right-hand side of the track (in the Northern Hemisphere), worsening conditions for properties on that side of the system. 
Hazel and Juan: Two Powerful Storms That Impacted Canada
One of the deadliest tropical cyclones to impact Canada was Hurricane Hazel, which created massive flooding in the Toronto area in 1954. Hazel caused significant losses, left nearly 1,900 families homeless, and claimed 81 lives. Emergency Preparedness Canada and the Department of Public Safety recently estimated that in current dollars Hurricane Hazel cost more than CDN 1 billion in long term economic disruption, property losses, relocation, and recovery.
One of the most powerful hurricanes ever to make landfall in Canada was Hurricane Juan in 2003. Juan made landfall as a Category 2 hurricane near the heavily populated Halifax area, claimed eight lives, and caused severe damage in Nova Scotia and Prince Edward Island. The cost of direct damage was estimated by the Nova Scotia government to be more than CDN 100 million.
Measuring Loss Potential
Today, catastrophe model output is the basis for understanding and quantifying natural hazard risk. AIR's Tropical Cyclone Model for Canada, launched in June 2015, is a fully stochastic,event-based model that captures the effects of damaging winds on insured properties in seven Canadian provinces. It is designed to meet the wide spectrum of risk management needs of all stakeholders, including the insurance and reinsurance industries,and it accounts for insurance policy conditions specific to Canada.