As I outlined in an earlier blog post, the China Insurance Regulatory Commission (CIRC) has been busy strengthening Chinese solvency regulation and harmonizing it with regimes developing in Europe and Asia. One of its primary goals is ensuring reasonable capital requirements to improve the risk capacity of the Chinese insurance industry.
CIRC developed the China Risk Oriented Solvency System (C-ROSS)to provide an evaluation system with which to rate the risks carried by insurance companies. C-ROSS links the minimum amount of capital an insurer must have to meet the adverse impact of three types of underlying risk to its solvency position: insurance risk,market risk, and credit risk. The capital requirements for these risk types, having been quantified using the prescribed standard method, are then aggregated.
For insurance risk, besides the minimum capital for premium and reserve risk, C-ROSS requires insurance/reinsurance companies to reserve minimum catastrophe risk capital for property, automobile,and agricultural insurance. It also requires property insurers to reserve risk capital for two specific perils: earthquake and typhoon (including typhoon-induced flood).
Checking Out the C-ROSS View
CIRC provides a template for calculating the capital requirements for catastrophe risk for property insurance and reinsurance companies using prescribed standard formulas.1 The template can also be used for the standard measurement of what is termed "actual capital" (the equivalent of Solvency II's "basic own funds"), or the insurer's excess of assets over liabilities.
Instead of the Solvency Capital Requirement (SCR) correlation factors used in Europe's Solvency II, C-ROSS uses an "Event-linked Dependency" method to consider the cat risk correlations among different regions. In the C-ROSS cat template, each province is defined as a risk area for each line of business (LOB), and each peril in domestic and overseas businesses is treated as one risk area. Four cat event scenario loss factors for property insurance earthquake risk, property insurance typhoon/typhoon-induced flood risk, automobile insurance, and crop insurance are open to users of the calculation template. There are 10,000 event scenarios by province for each peril and each LOB.
We performed some tests with the template to gain a preliminary understanding of the cat risk distribution in China from a C-ROSS perspective. Inputting CNY 1 billion as the sum insured for each province, we can see the 200-year catastrophe risk distribution for earthquakes and typhoons in China.
The damage ratios in the two figures below are the C-ROSS catrisk loss divided by the CNY 1 billion input for each province. Figure 1 shows that, when considering only earthquake, the risk is concentrated in Sichuan, Yunnan, and Beijing. Figure 2 shows how typhoon risk is distributed along the coast.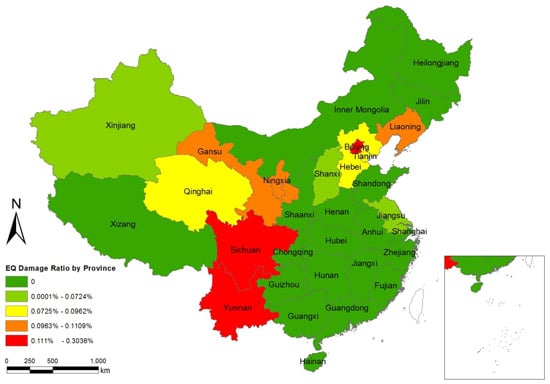 Figure 1. C-ROSS 200-year damage ratio distribution of earthquake before reinsurance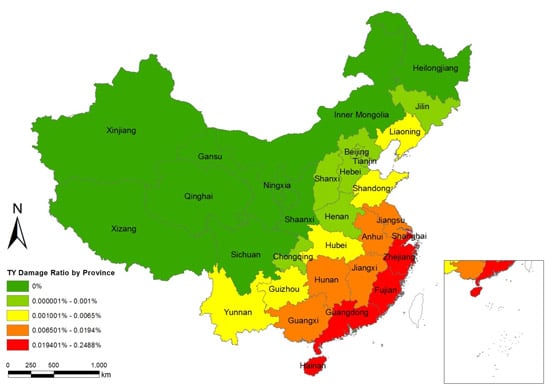 Figure 2. C-ROSS 200-year damage ratio distribution of typhoon before reinsurance
Comparison with AIR
To better understand the results, we performed further tests with the AIR models to obtain some reference comparisons. Using CATRADER®and again inputting CNY 1 billion as the sum insured for each province by LOB gave us the AIR 200-year damage ratio for residential, commercial, and engineering lines, respectively, and we take the result of the AIR commercial line as an example here.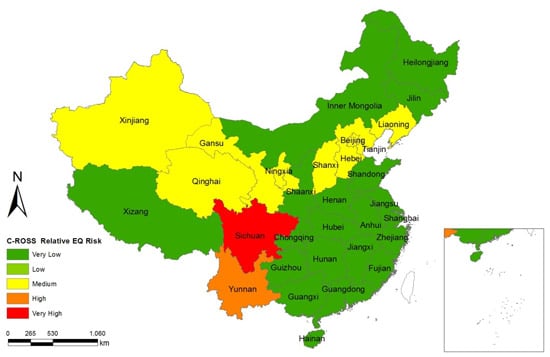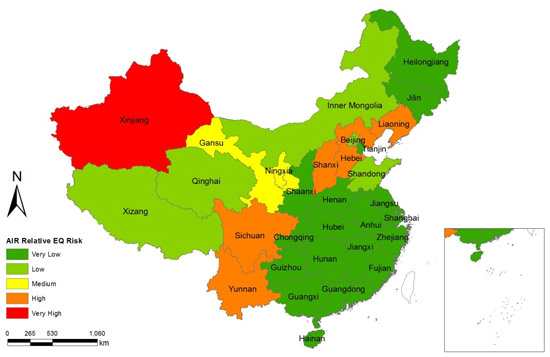 Figure 3. Relative earthquake risk distribution of C-ROSS (top)and AIR (bottom)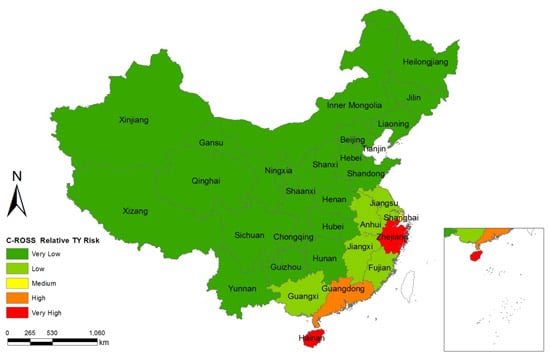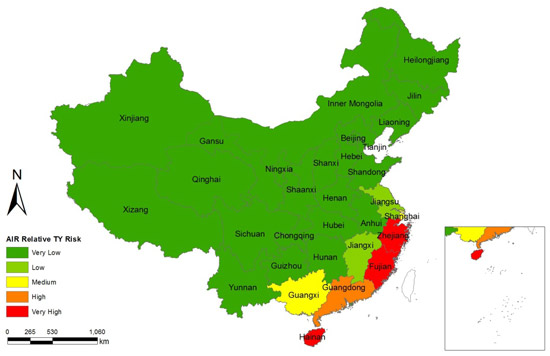 Figure 4. Relative typhoon risk distribution of C-ROSS (top) and AIR (bottom)
As C-ROSS results reflect aggregate risk, it means we should use AIR's aggregate exceedance probability (AEP) loss for the comparison. To make the result comparable, we standardized both the AIR and C-ROSS damage ratios to their maximum values, and categorized them into five levels to show the relative risk distribution of both perils shown in the maps above.
In the maps for both earthquake and typhoon, although there are some slight differences in the risk level categories for some provinces, C-ROSS and AIR produce almost the same key zones. Sichuan and Yunnan, for example, are high earthquake risk areas in both; and Hainan, Guangdong, and Zhejiang are all high typhoon risk areas. Above the medium risk level, C-ROSS and AIR have almost the same risk areas for both earthquake and typhoon.
C-ROSS's goal is to ensure that insurers and reinsurers have adequate capital for their risk capacity. Catastrophe models aim to reflect real risk and serve to help insurers fully understand their portfolio risk. Using either C-ROSS or AIR, regulators and catastrophe modelers have a similar sense of earthquake and typhoon risk in China. AIR's multiple catastrophe models for China enable insurers to analyze risk across multiple perils to gain a realistic view of combined loss potential.
1The standard formulas used to determine capital requirements for insurance risk are outlined here.