The 2014 Western Pacific Typhoon Season is officially over and although it turned out to be sub-par in terms of the total number of named storms (23), it is of interest for several reasons.
First, it was off to a flying start with five named storms officially identified by the Japan Meteorological Agency (JMA) before the end of April. I blogged earlier that such quick starts are not necessarily indicative of a bountiful season. Rather, it is the activity during July and August that correlates better with overall storm activity.
This leads me to my second point-the lack of activity in August. By the end of July there had been 12 storms (five of which formed in July), but then activity fizzled. Only one storm, Genevieve,occurred in August. It actually formed in the Eastern Pacific and then migrated across the dateline 6 hours later! It still counts as a Western Pacific storm, however, and represents the entirety of activity for that month (a record low).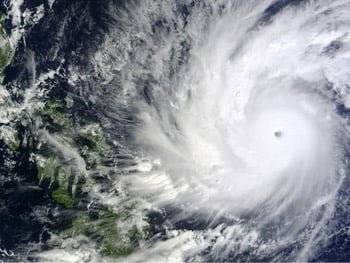 Super Typhoon Hagupit approaching the Philippines (Source: NASA Goddard's MODIS Rapid Response Team)
September was active, but not enough to get the season back on track. Typical of the late season, though, a very powerful storm (Super Typhoon) hit the Philippines in early December just north of where Haiyan made landfall last year. But Hagupit weakened quickly as it approached Manila and little insured damage was done. And just to remind us that the Western Pacific Typhoon Season indeed extends to the end of the year, the 23rd storm, Jangmi, formed on December 29, but only lasted 12 hours.
The season was noteworthy for more than just the number of storms. For example, there was more activity for Japan than for China. While none generated significant insured losses, Neoguri, Halong, Fungwong, Phanfone, and Vongfong all made landfall in Japan, and three or four other storms came close enough to bring heavy rain to parts of the country. China also saw five landfalling storms, but eight to ten is more the norm there. Rammasun was the most significant event for southern China. Hong Kong, Taiwan, South Korea and the Philippines, because of their size and/or location,usually see a lot of typhoon activity each year, and for them 2014 was not exceptional.
The high activity for Japan was related to the fact that more than half (12, to be exact) of the named storms formed east of 140°E. I use that longitude to identify whether a storm has a fighting chance of hitting Japan as it is re-curving. In 2004, when 10 storms hit Japan, the percentage was 66. In 2008, when no storms hit Japan, the percentage was 27. This year saw the highest percentage since 2006. The eastward shift in the genesis activity may be related to the El Niño event that was trying to form (ultimately unsuccessfully) during much of the season.
The last significant feature of the season is that although there was a subpar number of storms overall, eight of them (a disproportionately high percentage) bottomed out with a central pressure less than or equal to 935 mb, which is also the highest percentage of strong storms (CP < 935 mb) since 2006. But in general, if lower overall activity with a higher a percentage of intense storms is the expected result of climate change, as many studies have suggested, that pattern has yet to appear. In the three decades from 1951-1981 there were three seasons like 2014, but in the 33 years since 1981, there have been four-including 2014.
If the El Niño that has been trying to develop materializes,then the Western Pacific may be in store for more high activity this year. But as we all know by now, we will probably have to wait until the end of next August to know for sure.