September is National Preparedness Month in the U.S., and families, communities and workplaces are encouraged to "Be Disaster Aware, Take Action to Prepare" to improve their resilience. Flood, one of the costliest natural disasters across the country and around the world, is one of the six hazards focused on. Every year, in addition to the toll it takes on communities, flooding causes hundreds of millions of dollars' worth of damage to properties and businesses.
Flood mitigation measures reduce the risk of severe damage. Building outside flood-prone areas or elevating structures above flood elevations are two mitigation options, but they may not be the most convenient. Making properties more flood resistant, especially the ones that experience repeated flooding, is a cost-effective alternative.
Flood risk is not restricted to properties located near major rivers. Localized flooding and collection/drainage system failures, for example, are more frequent in urban areas due to their large percentage of paved surfaces. These impervious areas cause excessive surface runoff, overwhelming collection/drainage systems when too much water enters. Localized flooding may also occur where clogged catch basins prevent storm water from draining properly.
Floodwater can back up through drains into property, but installing "check valves" or "backwater valves" can prevent this. Another measure would be to reduce impervious areas, by using porous paving stones for example, to improve lot drainage. Installing proper roof drainage and using a rain barrel can help to reduce flows into the collection systems.
Underground garages and basements are particularly vulnerable and can be flooded even if the ground floor is not. A basement can increase the risk of damage to contents, particularly if used as living space or inventory storage. Relocating valuable equipment and/or materials higher up is a wise move.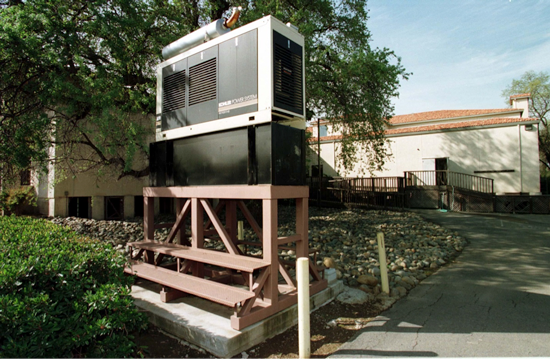 This power box has been raised to prevent flood damage (Source:Dave Gately/ FEMA News Photo)
Many high-rise structures have multi-level parking garages and their HVAC systems and electric panels are located below street level. Auto damage, in particular, can be significant. In commercial structures, when key building systems get damaged, cleanup will take longer and business interruption costs can increase.
Sealing a building to keep floodwater out is an option. Walls can be coated with waterproofing compounds and openings such as doors and windows can be temporarily sealed with sandbags or removable shields, such as flood doors or flood planks, to stop water from entering the building.
Flood mitigation measures do not have to be major construction projects. There are multiple resources on flood preparedness available. The Federal Emergency Management Agency for example has several publications that summarize various flood-proofing measures.
Home and business owners can reduce the risk of severe flood damage with some relatively simple mitigation measures. Preparedness is the key to reducing flood losses and ensuring more resilient communities.