They say you can't know where you're going if you don't know where you've come from. So as things are changing in the cat modeling world with new platforms that are faster, have more features, and are more intuitive than their predecessors, let's look back at how it all started. You'll see that the history of the rise of cat modeling is inextricably linked with the history of AIR.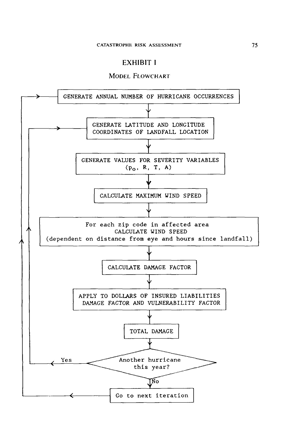 Model Flowchart exhibit from Clark's 1986 paper "A formal approach to catastrophe risk assessment and management" (
Click to enlarge
)
Karen Clark, the founder of AIR, the first catastrophe modeling company, first wrote about the idea of cat modeling in 1985. A read of her 1986 paper "A formal approach to catastrophe risk assessment and management" shows that some of the core aspects of cat models have proven to be highly resilient-having remained virtually unchanged after nearly 30 years. The modules of hazard and vulnerability are there, though the vulnerability component is not as developed as the hazard discussion. A quick look at the model flowchart shows that the basic workflow of a cat model hasn't changed much in all these years.
After conceptualizing the structure of models and starting AIR, model sales gained little traction due to skepticism of the need for computer models in an industry that had been going fine for years without them.
That all changed in 1992 with Hurricane Andrew. Using reported meteorological data from the National Hurricane Center, much like today when ALERT™ (AIR Loss Estimates in Real Time™) estimates are generated, AIR estimated a loss of USD 13 billion within hours of landfall. It being 1992, ALERT estimates were faxed to(re)insurance entities rather than being posted online as done currently. Despite accusations of scaremongering and of being way off the mark, AIR's estimates proved robust compared with actual insured losses, which ultimately came in around USD 15.5 billion. AIR's ALERT performance for this event was an impetus towards wider adoption and acceptance of cat models in the industry.
If you want to learn more about how Hurricane Andrew transformed risk management, take a look at this AIR Currents article.