If you haven't heard that El Niño conditions are coming soon to the equatorial East Pacific, then you've probably been on a very long holiday devoid of cable news and Internet access-and I'm jealous. For the rest of us, this has been a long, drawn out forecast, one that might soon be verified.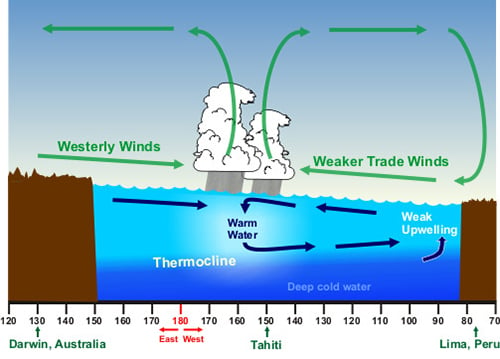 El Niño Conditions: Warm water pool approaches South American coast. Absence of cold upwelling increases warming (Source:NOAA)
Here is the current state of El Niño indicators: the sea surface temperature (SST) anomalies have weakened, the depth of warm water has decreased, and the east-to-west slope of the thermocline (a thermal layer in the ocean that separates warmer surface water from colder deep water) is very low. None of these are very indicative of a well-defined El Niño event, and they are all moving in the wrong direction.
However, the support for an El Niño prediction is still strong. Years with conditions similar to 2014 (i.e. that started with coolSST anomalies and shifted to warm SST anomalies during the spring)have most typically evolved into El Niño conditions that persist into at least the end of the year.
Current forecasts provided by the Climate Prediction Center(CPC) were (and still are) highly suggestive of El Niño conditions persisting for the remainder of the year, with the CPC and International Research Institute for Climate and Society (IRI) consensus ENSO forecast probabilities remaining at a 70-80%chance of an El Niño. A majority of the ensemble members of predictive model forecasts provided by the same group support those probabilities.
However, the consensus is not unanimous. The 2012 season began in a similar fashion, but then changed when El Niño condition stopped off in July then returned to neutral. And while these forecasts come from sophisticated statistical and dynamical models that employ sound methodologies, there is still notable uncertainty. Just a few months ago some forecasters talked of the strong potential for a major El Niño event. Now many forecasters expect this season to peak with weak-to-moderate El Niño conditions by late fall.
So… will there be an El Niño this year?
What we're seeing now could be a temporary oscillation in the conditions (which happens quite frequently), but it might also be a sign that we have an outlier event on our hands that may not be as influential as was widely broadcast. Time will tell, and I will leave the ENSO forecasting in the hands of the experts where it belongs. But given the influence that El Niño has on projections of other things across the globe, not the least of which are the seasonal hurricane forecasts, it is something to keep an eye on as the summer progresses.