I got a real kick out of participating in "Understanding Risk,"a week-long biennial conference hosted by the World Bank. London was this year's venue, and the program offered a myriad of sessions and workshops. As the title suggests, the conference was focused on the understanding of risk across a wide range of hazards, including natural hazards.
The World Bank invited entities working in the broader disaster risk community and succeeded in bringing together disaster management agencies, institutions such as the Red Cross and Cafod (Catholic Agency for Overseas Development), catastrophe modelers, and government entities such as DfID (Department for International Development).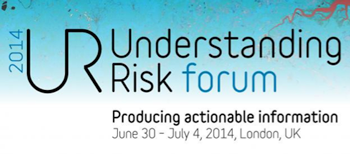 AIR led a session entitled "Model Output as a Universal Currency for Disaster Risk Financing and Management" which featured a distinguished panel of speakers from the World Bank, Swiss Re, Athena Global, Geosys, and AIR. The World Bank discussed AIR's involvement in creating insurance markets, such as the World Bank sponsored Europa Re project in the Balkans. As part of this project, AIR built earthquake and flood models for Albania, Serbia, and Macedonia to enable the quantification of natural catastrophe risk in the region.
The session also discussed how models could be used to inform the risk mitigation decisions that finance and planning ministries are faced with. This was illustrated by showing the shift in exceedance probability curves with and without mitigation, such as the presence of sea walls. To properly structure public-private programs where risk is shared between government and industry, catastrophe models can be used to estimate the losses of the different participants at specified return periods. Nevertheless,one speaker said that the cat modeling industry still has some way to go in increasing its penetration in many developing countries, particularly in the use of models to influence mitigation decisions at the governmental level.
AIR also participated in one of the day-long workshops, "Plug and Play? How can we connect the modeling tools?" The workshop had an eclectic range of participants including academics, risk modelers and standards boards. Plug and Play is an initiative by the World Bank to connect the plethora of modeling tools now available so that their use may be increased, particularly in disaster management.
Two of the principal ideas were 1) to take a hazard model from one source and connect with the vulnerability model of another and 2) to set standards that models can adhere to so they can become more interoperable, and thus more widely used.
Both of these ideas are alluring, though several downsides were noted at the workshop. The highly calibrated or tuned nature of models, for example, means connecting two model components trained on different data may lead to models that no longer validate well. Furthermore, whilst standards for models were deemed attractive, participants also thought that standards could stifle innovation. Nevertheless, the goal of Plug and Play is a noble one, and it will hopefully increase the use of models in disaster risk management and reduction.