Early on the morning of August 8, 2014, Tropical Storm Iselle made landfall on the Big Island of Hawaii,near the small town of Pahala with 60 mph sustained winds. Iselle was the first tropical cyclone landfall on the Big Island since 1958, and just a few hours prior to landfall, it was still a hurricane. Six days later, I toured the parts of the island that were impacted by the storm. Interestingly, the town of Pahala itself was effectively untouched by Iselle's winds. However, several subdivisions about 40-50 miles north of Pahala, including Hawaiian Paradise Park and Hawaiian Beaches, did experience wind damage. Additionally, the storm devastated the island's papaya crop.
Driving through the areas of the island impacted by the storm, starting in Hawaiian Paradise Park (located just southeast of Hilo,the Big Island's largest community), the most obvious damage was to trees. Numerous trees were down, taking power lines with them. Many people were still without power. Utility crews were busy repairing the lines. In some cases, though, the wind itself was strong enough to destroy a telephone pole.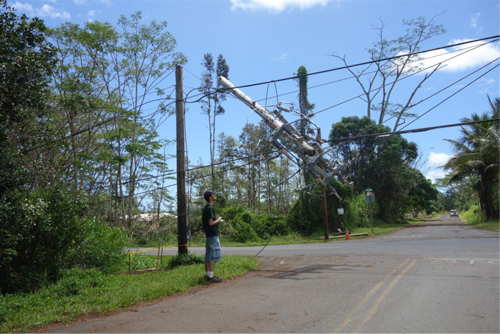 Here I am surveying a damaged telephone pole
Most residential structures in the subdivisions were single walled wood construction, with tofu block foundations, and metal roofs. The small minority of homes with shingle roofs did lose a few shingles. Other homes were covered in blue tarps, so it was difficult to determine the extent of their damage or even what their roofs were constructed from. One home in the middle of Hawaiian Paradise Park, several miles inland from the water, lost most of its roof (this home was in an area with many downed trees and power lines, so there was likely a localized wind effect):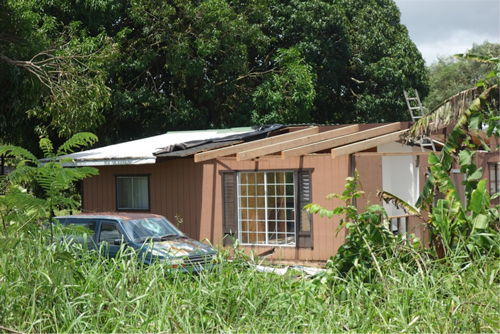 Severe roof damage to a home in the middle of Hawaiian Paradise Park, several miles inland
A bit south and east of Hawaiian Paradise Park is another subdivision: Hawaiian Beaches. Similarly to Hawaiian Paradise Park,there were many trees and power lines down. Many roads through the subdivision were still blocked off by downed trees and debris.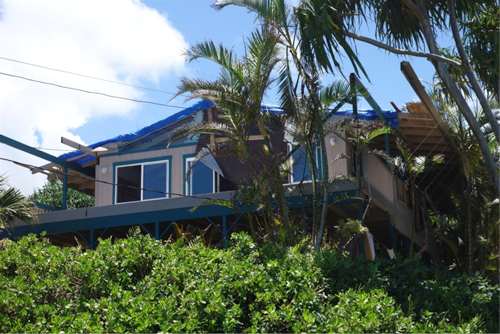 This house, directly across the street from the ocean, lost part of its roof
After surveying those two subdivisions, it made sense to see what happened in Pahala, the closest town to the storm's landfall. Driving around Pahala, there was no visible damage. Almost all the construction in Pahala was single wall wood frame, so they were quite lucky to have come out of the storm cleanly.
Finally, this would not be a good report about a damage survey in Hawaii without the obligatory steaming volcano photo.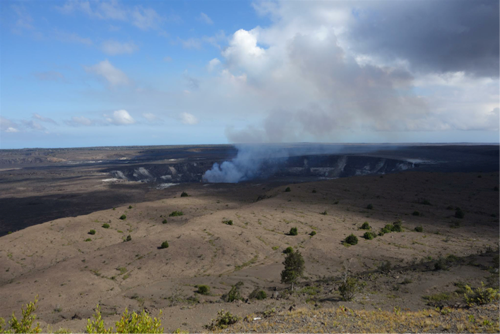 The Caldera of Kilauea, the most active of the five volcanoes that form the island of Hawaiʻi
Iselle reminds us that Hawaii is not immune to tropical cyclones and that each of the Hawaiian Islands is at risk.