Even now, it is very hard to put into words the devastation wreaked by Hurricane Sandy in October 2012 when it made landfall along the Jersey Shore. Homes were razed, Manhattan went dark, boats were washed ashore, coastal roads were destroyed, and subway tunnels filled with water. Sandy stole Halloween like the Grinch stole Christmas-only it didn't give it back.
Sandy was an eye opener in many ways, but it also served as a natural laboratory to test and validate the efficacy and robustness of modeling assumptions, not just for catastrophe risk modeling firms like AIR Worldwide, but also for government agencies such as the United States Army Corps of Engineers (USACE).
Following Sandy, the USACE assembled a nationally-based expert panel to estimate the extent of damage to residential and commercial structures and their contents from coastal saltwater flooding and wave action. The panel comprised engineers, meteorologists, academicians, restoration specialists, building contractors, mechanical, and electrical and plumbing engineers/specialists.
As a pioneer in the field of catastrophe modeling, AIR was invited to participate. And as an engineer on AIR's atmospheric perils vulnerability team, I had the distinct honor of representing my company.
Expert-opinion elicitation is a formal, heuristic process developed by the RAND Corporation in late 1950's and early 1960's for obtaining information and answers to specific questions. It is a process that the USACE uses often, and it has been employed after major hurricanes in the past -most recently following Hurricane Katrina in 2005. In the case of Sandy, the process was used to supplement other rigorous analyses using claims data or engineering expertise.
The results from the expert elicitation will be used to develop generic depth-damage functions that will then be used by the USACE to estimate the loss from hurricane-driven coastal wave and saltwater flooding damage to homes and businesses located along the Gulf and North Atlantic coasts of the United States.
The results of the expert elicitation, which will be a set of building and contents damage functions for residential and commercial prototype structures, will be made available as a part of a comprehensive report due to be released later this year. A lot of interesting insights were gleaned from participating in the panel, and I'm confident that both AIR and the USACE benefited from the experience.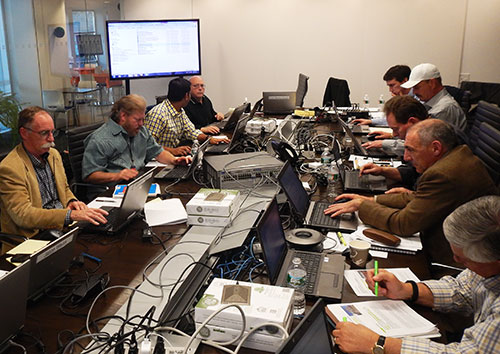 The USACE expert-opinion elicitation panel at work (Source:AIR)