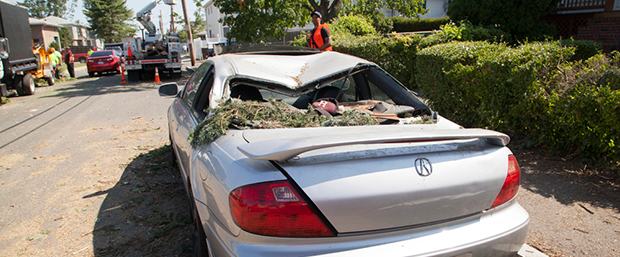 A car damaged by a falling tree during Monday's tornado in Revere, MA
There is an abundance of folklore regarding factors that may (or may not) protect a location from tornado activity. They go around rather than over hills, for example, or they're disrupted by urban structures, or attracted to mobile home parks.
The scientific basis for such claims just isn't there and ultimately it doesn't take much digging to identify plenty of instances to debunk them. However, of all these misconceptions, one that has some level of physical backing is that tornadoes do not occur in coastal areas.
The general idea is that coastal areas have cooler air temperatures than inland locations-think cool, refreshing sea breeze on a hot summer afternoon. This cooler air is less buoyant (more stable, in meteorological terms) and, so the argument goes, will make thunderstorms less severe as they approach the coast, protecting those areas from tornadoes.
And as it turns out, this is often the case.
However-as is also often the case-nature is more complex than our oversimplifications, and coastal areas can be impacted by tornadoes in several ways.
Waterspouts that form over the ocean (or large lakes) and move inland are probably the most common. These tornadoes are typically weaker than those spawned by supercell thunderstorms, but they have been documented to cause damage at times.
Tropical cyclones (hurricanes and tropical storms) are known to be capable of causing large tornado outbreaks in coastal and non-coastal areas, typically ahead and to the right of the storms' landfall location. These tornadoes tend to be stronger than waterspouts coming on shore, but still not as violent as the supercell storms.
Coastal counties are not in fact fully protected from supercell storms.
When coastal areas don't experience a sea breeze environment, such as in the morning before sea breezes develop or on days with moderate off shore winds, there is nothing to disrupt thunderstorm activity.
This is what occurred on Monday, July 28 in Revere, Massachusetts (a coastal community just north of Boston) when an EF2 tornado damaged parts of the town at around 10 a.m. The thunderstorm that spawned that tornado had moved up from the southwest leaving a wide swath of wind damage and flooding from the western suburbs northeastward across the north shore area. No injuries or fatalities occurred, but extensive damage was inflicted. Many trees and cars were destroyed and public buildings and more than 100 homes were damaged. Because the event occurred in our own back yard, an AIR damage survey team was on site very quickly.
The Revere tornado was similar in many ways to other events in recent history, including two tornadoes that impacted New York City (a 2007 EF2 in Brooklyn and a 2010 EF1 in Queens), both of which crossed water along their tracks.
As intense as these events were, there are cases of much stronger coastal events. On April 28, 2002, La Plata Maryland was devastated by an F4 tornado that tore through that city, killing three and leaving more than 100 injured. The La Plata tornado had a track nearly 40 miles long, and at its widest was nearly half a mile across. The tornado first touched down in Central Virginia, but as it approached Chesapeake Bay, and presumably more maritime air, it showed no signs of weakening. Dramatic pictures were taken as it passed directly across the water into eastern Maryland, spawning a second concurrent tornado as it did so!
Such events should act as a reminder that no location in the U.S. is immune to the impacts of tornadoes, although even in active areas, tornadoes impacting a specific location are rare,which is probably the source of most of the mythology in question. So when conditions are favorable for severe weather, it's important to heed the forecasts, keep an eye on the National Weather Service for watches and warnings, and think twice about heading to the beach!
For additional information on thunderstorm risk in the northeastern U.S. take a look at the recently updated Severe Thunderstorm Model for the United States.