As Scott Stransky discussed in his recent post, May 20 was the one year anniversary of the massive EF-5 tornado that hit the city of Moore, Oklahoma. In response to that terrible event, the city has approved updates to its residential building codes that require new construction to withstand winds up to 135 mph. The city is the first municipality in the country to institute existing hurricane-based design and mitigation measures to help structures withstand the winds generated from tornadoes of moderate strength. The current standards within the central U.S. establish a minimum design wind speed of 90 mph.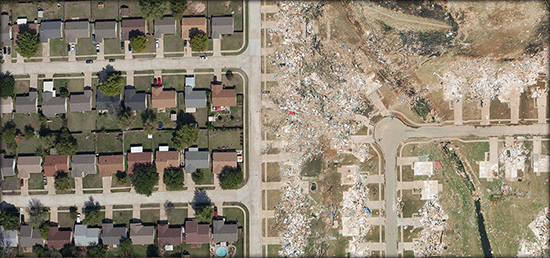 Before and after pictures of an area affected by the May 20 EF-5 tornado in Moore, OK (Source: Xactware®)
Moore is no stranger to tornadoes. Last year 24 people were killed, 240 were injured, and 2,400 buildings were damaged or destroyed during a single event. But it was even worse in 1999 when one of the strongest tornadoes ever recorded, with wind speeds of 300 mph, killed 44. Moore was also the site of two other serious tornadoes, one in 2003 and a second in 1999. An average of 50 tornadoes hit Oklahoma every year.
As part of the new building codes to protect against damage from moderate tornadoes, builders must strengthen roof sheathing, include hurricane clips, and incorporate wind-resistant garage doors.
Wind-resistant garage doors are a particular concern. A recent study (which confirms the conclusions of AIR's own tornado survey team) on damage from last year's Moore tornado determined that the root of failure for residential structures was often the garage. When powerful winds breached the light garage doors, the garage area became pressurized and the roof was lifted from the wall. The walls of the garages then often collapsed, exposing more of the structure to wind damage. This is of particular concern for garages attached to the main structure. For all new construction, garage doors must be strengthened to be wind resistant.
Other regulations include additional roof sheathing attachment requirements and improved roof anchorage. For example, two nails hammered into wood to hold down a roof at a 90 degree angle provide little resistance to the upward suction of a tornado. Toenailing,or nailing at a 45 degree angle, with three nails offers significantly greater resistance to suctioning. Strengthened roof anchorage can be achieved through the use of hurricane ties or clips. Hurricane ties, which are metal straps that bind a roof to its walls, are even stronger than nails and are widely used in hurricane-prone states like Florida.
While it is not anticipated that these regulations will completely protect homes from tornadoes, which can generate winds of more than 300 mph, they should reduce the amount of damage and the number of people killed or injured. For example, a study undertaken following the 2011 tornadoes in Joplin, Missouri, and Tuscaloosa, Alabama, found that 85% of the damage area left behind by an EF-4 or EF-5 tornado came from winds of 135 mph or lower-that is, the intensity of an EF-0 to EF-2 tornado. Areas along the edges of powerful EF-5 storms that experience these lower but still damaging wind speeds could see dramatic improvements in safety with the new regulations.
With the just released update to the AIR U.S. severe thunderstorm model, AIR clients can capture the impact of buildings strengthened to the new building regulations in Moore through the appropriate selection of mitigation features, or secondary building characteristics, in Touchstone®.